- By Laura Roesch, Photography by Michael Booini
Ground zero for vintage trailer restoration in this part of the country is tucked away in a small industrial area in Panama City. There you will find Tim Heintz, collector and restorer of vintage trailers.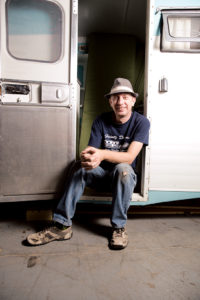 With a degree in architecture and years of working as an architect, the 33-year old launched his vintage trailer restoration business in 2010 and has quickly built an excellent reputation in this highly specialized niche. Tim's customers come from all over the country, and he and his team have been featured on the Travel Channel, HGTV, Motorsports Magazine, Extreme RVs, and RV Nation. Outside his bustling shop is a queue of campers and trailers in all shapes and sizes, patiently awaiting revitalization. Tim's love of vintage trailers is a family matter and found its beginning in the 1950s.
What is your earliest memory of a trailer or camper?
As a little boy of 5 or 6 years, I visited my grandparents in their beautiful 1958 Skyline Deluxe trailer. It was 45 foot long with all-original woodwork and it was pink on the outside. My grandfather was a union boilermaker working at power plants and paper mills, he and my grand- mother bought it new and hauled it all over the country to live in as he worked. They towed it with the family car, a 1955 Buick. It was a way of life for them, my mother, and her two brothers.
They might be in Nashville for six months and then overnight they would relocate to Louisiana for the next six months. They finally retired in Panama City after 20-25 years on the road, and they lived in the Skyline until 2011. It's my home now.
Is there a particular kind of vintage trailer you prefer to restore?
We focus on trailers from the mid-1920s to the early 70s. Personally, I especially love those from the 40s and 50s. At one time, I owned 15, including a 1949 28 foot Airfloat Land Yacht, a 1950 30 foot Spartanette Tandem, a two- story 1951 28 foot Lighthouse Duplex and a (Masonite sided) 1941 Palace Royale, among others. Now I am down to just nine.
How did you begin restoring trailers?
By working with my grandfather, father, and uncle who were skilled in metalwork, shipbuilding, and woodworking, all of which were helpful in maintaining their own vintage trailers. As I was finishing high school, I restored a 28 foot 1956 Hicks Mobiliner trailer and lived in it for five years while completing my architecture degree. After college, I worked as an architect for several years, while continuing to restore trailers for friends and family. The demand kept building and so I stepped away from architecture completely.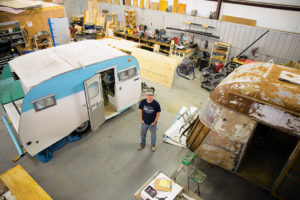 Which one of your personal trailers would you never sell?
There are several. At the top of that list would have to be my grandparents' 1958 Skyline Deluxe.
Do you ever travel in your trailers?
If so, where to? Yes, I travel all over the east coast of the United States attending vintage trailer shows, exhibits, trade shows, and I take my trailers to museums that have requested to have them on display. The largest show is in Pismo Beach, California, every May. This year we will be showing a 1959 Ellsworth Coach. It is tiny, unique, and the only one known to exist. And we found it in Panama City Beach! I am also the Southeastern Representative for the Tin Can Tourists (www.TinCanTourists.com ), which is the oldest camping club in the world. We host vintage trailer shows/ rallies all over the United States. We are expecting 40-50 trailers at our Vintage Trailer Rally in Panama City Beach this April.
What do you enjoy the most about restoration?
The history! By the early 50s there were more than 5,000 different trailer manufacturers in America. Many brands are almost identical. The only difference might be something as simple as a light being 2 inches lower on the outside that classified it as different brand. I am constantly on the lookout for vintage catalogs and magazines, they are like pure gold to me as they are a terrific historical reference. For example, I have many March Trailer Topics magazines – they are treasures because the month of March was when new specifications came out every year. I also have a 1953 travel guide that lists all trailer parks, including a listing for Panama City! These materials are a unique glimpse into life at the time. I study them and retain and recall the finest detail of what I read. People contact me from all over the world asking for help in identifying trailers, often with old family photos, or just the smallest description of a detail. I can often identify a trailer from the most obscure bit of information.
What is involved in a typical restoration?
Most cases require frame-up restoration and we prefer to keep as much originality as possible.
If a trailer has most of its original parts, it is easy to change, restore, or replace the wood. Parts can be very hard to come by so we often have to fabricate them. For something as simple as a trailer's exterior aluminum skin, we have a machine that creates the custom patterns that can't be found otherwise. We typically have six or seven restorations underway at any given time. This doesn't count the repair work that comes in.
Where do you find your customers, or do they find you?
They find us. Surprisingly, we have a lot of work from the west coast. Restoration can be costly. The average run-of-the-mill cost starts at about $2,000 per linear foot and can go up from there. We have a two-year waiting list. I don't think we have ever said "no" to a customer and, so far, we haven't regretted saying "yes."
How long does it take to restore a trailer?
The time frame varies greatly, depending on the condition, size, and client's choices in equipment. We try to keep to a four-to-six-month time period for each trailer but many can take longer depending on the scope of work to be done.
What are the must-do items in trailer restoration?
This, too, varies, depending on the overall condition of the trailer. Some are found in good shape and need less overall work and replacement of items, while others are in such rough shape that they need transportation by flatbed trailer to our facility and then have major items replaced such as axles, running gear, front hitches, major frame repair/replacements, as well as interior systems like electrical wiring and plumbing. However extensive the work, we can bring a trailer back to the condition it was in when it was brand new.
Any particularly challenging jobs?
Several years ago, we restored a 1934 Vagabond. The wife wanted it restored just like it was when her parents bought it new. When we were done, it looked like a museum piece. Then the owners decided to "full time" in it and wanted every modern convenience possible. In eight months, the trailer looked just like it did when it rolled off the assembly line in 1934, but discretely concealed within it was a Wi-fi system, flat screen TVs, a residential washer and dryer, and 28,000 BTUs of air conditioning. Of all the ones we have done so far, this one is at the top of the list of challenges that turned out especially well.
Have you come across an unusual or historic trailer?
Unusual and historic! In 2015 we rescued the world's oldest existing Airstream Torpedo in Ozark, Alabama. Airstream did not build trailers in 1935; they sold the blueprints instead, for $5, and a buyer had to acquire whatever construction materials were needed to build it. The owner who built the Torpedo passed away and it was sheltered in his barn for many, many years. That family traveled with it to every state in the continental United States, every province in Canada and every state in Mexico, logging more than 400,000 miles. The Airstream factory recognizes it as the oldest ever documented. It was a time capsule; we found 80 years' worth of spare parts and boxes of supplies under the rear bed. Its running lights were headlights from a 1925 Harley Davidson. Its taillights were from a 1929 Ford. And we were able to locate the bilge pump, which is considered the most important piece of history in the RV world to this day! When the owner built the Torpedo, the designs called for a fuel pump from a 1920 Cadillac. Back then, fuel pumps were not electric. They looked like a  pinball machine plunger and had to be pumped up constantly for water pressure. The owner got tired of having to do that, so he took a  six-volt bilge pump out of his Chris Craft boat, put it in this trailer, hooking it to the water tank and six-volt battery. This allowed him to simply flip a switch for running water in his trailer. No other trailer in the industry had that until 1953 when the owner travelled to the Airstream factory in Ohio to buy a bigger Airstream. He removed the water pump from the Torpedo in the factory's parking lot so that he could reinstall it in the new trailer. The Airstream engineers observed him doing this and were blown away by the device. The next year, Airstream came out with that very feature on the new models. Then the next year, every other trailer company did the same.  Unfortunately, the owner never got a patent. To this day, million dollar coaches use his ingenious design! I am happy to say the Torpedo is now owned by and on display at an RV museum in Amarillo, Texas.
Have you ever found something unusual in the nooks and crannies of an old trailer?
We often find all sorts of items, more so in trailers that we rescue ourselves, since we are the first ones to clean them out. From old coins, military medals, military uniforms, family photos, old bottles, S&H green stamp books, to even some vintage jewelry.
What do you think about tiny houses?
Tiny Houses are a great idea in theory, however I think the Tiny House industry needs to look for a little more inspiration in the history of vintage trailers as well as what were known as 'house trailers' in the 50s. They tend to pack a lot into these tiny homes but most lack  privacy, especially for families with children. There are many vintage house trailer designs from the 50s that even allowed every member of a family a private bedroom, as well as full bath, living room, and full kitchen, all in the same size as many of the larger Tiny Houses. We have a 1955 Ventura Trailer that is eight foot wide and 40 foot long (street legal) and it is an actual two-story trail trailer at only 12 foot six inch tall and it has a 15 foot long front living-room, a large kitchen with separate dining room area, full bathroom with bathtub, a master bedroom downstairs, and two private bedrooms upstairs. It even has two large attics upstairs for extra storage! All of this and the trailer still only weighs 8,600 pounds and tows with ease. Most tiny houses, even at that length, only offer a fraction of the room that
the Ventura has, and they weigh nearly twice as much. There were many other brands and styles of two-story and expanding trailers from the 50s that tend to be lost to history.
Will you ever think about buying a house? 
Yes, although I currently live in the all-original 1958 Skyline Deluxe, I would be just as happy in a conventional house as long as I have room for all my trailers in the back yard!
The next Tin Can Tourist gathering will be at St. Andrews State Park the weekend
of April 27, 2016 with more than 50 vintage trailers on exhibit.
For more information visit www.heintzdesigns.com or www.tincantourists.com
Leave a Reply
comments
Powered by Facebook Comments