Ever since the candidate nominations, pundits have analyzed the 2016 presidential election ad nauseam and perhaps to our collective exhaustion. The extensive analysis has presented us with a recurrent theme of a disgruntled "working white class," and its sense of losing ground as the country and the world have become "globalized," more diverse, and more tolerant. In the eyes of many, the world has become stranger, removed
and distant.
D. Vance's moving and poignant memoir, Hillbilly Elegy, hit the bookstores before November 2016. While he tells his own story of growing up in a poor, white, working class family where dysfunction, abuse, and addiction were part and parcel of everyday life, his outlook is dichotomous and therefore consistent with the common mood post-election, often disparaging conventional wisdom that guides the punditry.
His childhood experiences lend Vance the authority and credibility to examine the white working class. Indeed, it is a culture he still cannot shake, even as a Yale Law School graduate and a successful businessman.
Hillbilly Elegy tells the tale of one family that fits the definition of "white working class" or, in Vance's parlance, the "hillbilly" culture, and likely offers a glimpse into distinct yet strikingly similar pieces of the same basic culture throughout the Rust Belt and in patches around the United States.
Vance was born in Middletown, Ohio, the point of exile for many other families from Kentucky who had encountered dwindling opportunity in the beloved "hollers" of their home state.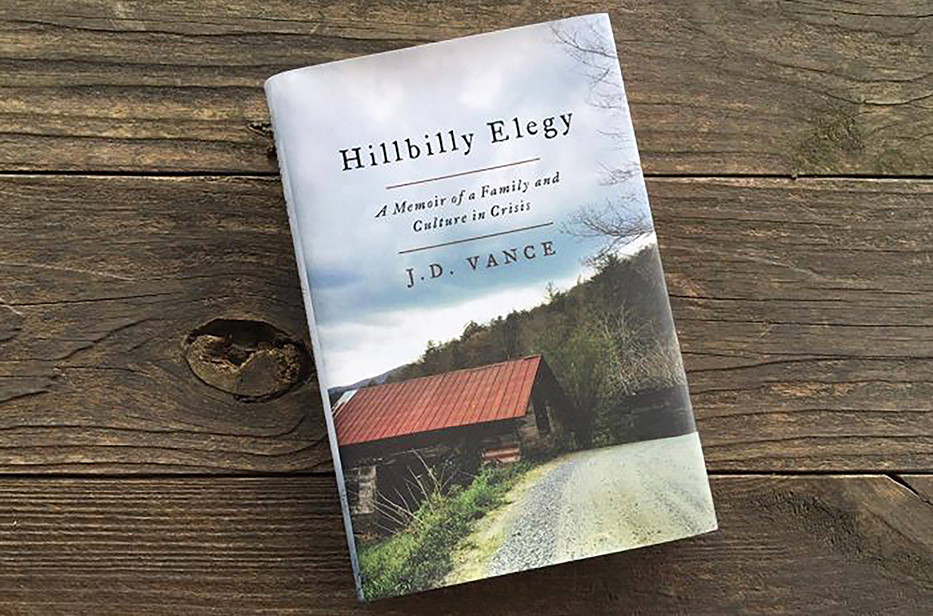 Vance, like the grandparents he cherishes, always had one leg in Ohio and the other in Kentucky. He took delight in his summer visits to Kentucky, where "Mamaw Blanton" still reigned.
Growing up, J. D. lived under the ostensible care of his mother, who moved from man to man seemingly as rapidly as she moved from one addictive substance to another, but tried, all the while, to be a good mother. Throughout those hard years, J. D. relied on his older sister, Lindsay, and especially on his grandparents, "Mamaw" and "Papaw."
His Mamaw, the hard-scrabbled, foul-mouthed Bonnie Vance, would outlive his Papaw by many years. She would prove, over many decades, to be J. D.'s champion, protector, and muse, with the most profound influence upon him.
Early in the book, we learn about Mamaw, Bonnie Vance, née Blanton, and the true grit that defined her.
"When she was around twelve, Mamaw walked outside to see two men loading the family's cow—a prized possession in a world without running water—into the back of a truck. She ran inside, grabbed a rifle, and fired a few rounds. One of the men collapsed—the result of a shot to the leg—and the other jumped into the truck and squealed away. The would-be thief could barely crawl, so Mamaw approached him, raised the business end of her rifle to the man's head, and prepared to finish the job. Luckily for him, Uncle Pet intervened. Mamaw's first confirmed kill would have to wait for another day."
Whenever J. D. needed to leave the house of one of his mother's boyfriends as she had found a new one, he never packed much. He kept most of his belongings at Mamaw's house, and that is where he always returned. Despite her hard edges, Mamaw Blanton was adored by her grandchildren and, later, her great-grandchildren, who deemed her "the nicest person in the world." It was from her, after all, that they learned choice words that she forbade them to speak anywhere other than her house.
When it came time for J. D. to go to college, even though he was accepted to Ohio State, he decided that he just wasn't ready. He lacked discipline and he didn't have the necessary "grit." Still, he clearly had the capacity to recognize that he would squander the college opportunity if he embarked upon it prematurely. In addition, he had no means of paying for the college.
His oldest cousin, Rachael, a USMC veteran, convinced him to join the Marines. Once a bona-fide Marine, Vance discovered that he had gained not only a new physique and discipline, but self-sufficiency. Most importantly, for the first time, he had the ability to help others. When his grandmother lost her health insurance, he stepped in to pay her monthly premium. Not long after, Vance would be sitting beside the hospital bed of his comatose Mamaw, reading from First Corinthians as she took her last breaths.
After two more years in the Marine Corps, Vance entered Ohio State, where he graduated with honors. He would go on to graduate from Yale Law School, where he served as an editor for the Law Review. Each of these milestones distanced him further from his previous life in Middletown, his hillbilly life.
At Yale, his "otherness" was more apparent than ever before. Surrounded by fellow students of class and privilege who never worried about money and knew the difference between Chardonnay and Sauvignon Blanc, he felt, as never before, the constraints of his upbringing.
Yet, he eventually found his footing with the help of professors who nudged him along the right path. He also met Usha during those Yale years. She was initially his "spirit guide," later became his girlfriend, and eventually his wife.
Vance, as he grows reflective, is a steady and sure voice in support of the folks of his hometown. He readily admits that, while he might have left the hillbilly culture behind, it will always remain a part of who he is.
He recognizes the interminable circle of broken families, substance abuse, and desperation that entraps so many:
"Chaos begets chaos. Instability begets instability. Welcome to family life for the American hillbilly."
While he is undoubtedly a success story in his town and among his family, he doesn't take personal credit. Rather, he attributes his achievements to his Mamaw (the indomitable Bonnie Vance), his sister, numerous teachers and professors, and drill instructors who pushed him and would not let him settle. He even gives credit to his mother, who, despite her vices, always touted the value of education and hard work. He recognizes people who prodded him and opened his world to opportunity. He also acknowledges that many young men grew up in circumstances like his own, sometimes with a father but largely fatherless, with mothers who required much care and provided too little in return. Yet, most were not given the opportunities and the prodding that helped him succeed in life.
The perceived lack of opportunity and the absence of encouragement from family members and others can lead to desperation, or resignation—a sense that things are as good as they will get, and there's no point in trying to change one's lot. When such resignation persists, resentment and misguided blame-placing fill the voids of missed or missing opportunities. The institutions are to blame. The system is to blame. Others are always to blame.
Whether Democratic and Republican strategists would benefit from harvesting these pages is open to debate.
It is a mistake to read this book through a political prism, as many have done. This is a story of human suffering in the heart of our country. Likewise, it is a story of grit and determination, loyalty to family, and unwavering self-reliance. Vance breaks the bonds and limitations of stubborn self-reliance. He took chances that demand faith in institutions that once were anathema. The government. The military. Academia. These once-dreaded institutions became a conglomerate panacea for Vance.
At its least, Hillbilly Elegy is a lesson in sociology for us all. At its best, it is a lesson in humanity and a challenge to our own.
ABOUT Kendall Middlemas Henley
Kendall Middlemas Henley was born in Panama City and attended Bay County public schools. She received a bachelor's degree in English from Mount Holyoke College. Kendall worked for 13 years as a local newspaper reporter and editor and is now a litigation paralegal. She lives with her husband and daughter in
Panama City.
She lives with her husband and