By Robert Hurst, Photography by Jordan Williams
The members of the Bay County Historical Society invited guests to the grand opening of the Bay County History Museum with nearly 6,000 square feet of exhibition space.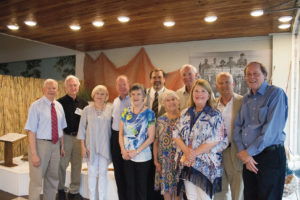 Numerous dignitaries and history enthusiasts got a first glimpse of the exhibits that visualize what life was like in Bay County throughout the last 100 years. Exhibition highlights include a 1930s living room, a barber shop, and many other curated displays that revive good old times. One of the most popular exhibits showcases Bay County's railroad system, the Bay Line, a milestone in Bay County's infrastructure.
A ribbon-cutting ceremony was performed by Panama City Commissioner, Kenneth Brown, and President of the BCHS Board of Directors, Bob Daffin. The public is invited to tour the new museum. The Bay County History Museum, located at 133 Harrison Avenue, is open to visitors Tuesday, Thursday and Saturday, from 10:00 a.m. until 1:00 p.m. The admission is free.
Read more about the building's historical value and the exhibits on page 23 of this issue.
For more event photos, visit the "Bay Lately" section on our website: panamacityliving.com
Leave a Reply
comments
Powered by Facebook Comments