By Sharon Michalik, Photography by Michael Booini

Freedom is a word with a myriad of meanings for different people. To Scott and Renee Elder, owners and operators of Panama City Beach's Freedom Handles, the word's definition is evolving as their home business expands. "At first it meant the freedom to use the handle on virtually any size cup," Scott explains, manipulating a Freedom Handle to demonstrate its flexibility. "But the business is becoming so successful it now means the financial freedom to pursue this full-time."
The business, he explains, was initially meant to just provide "fun money" since both Scott and Renee had full-time positions. Now the two combine their talents full-time to make as many as 400 Freedom Handles a week. The colorful handles retail for $20 each at more than 30 business locations from Texas to Key West.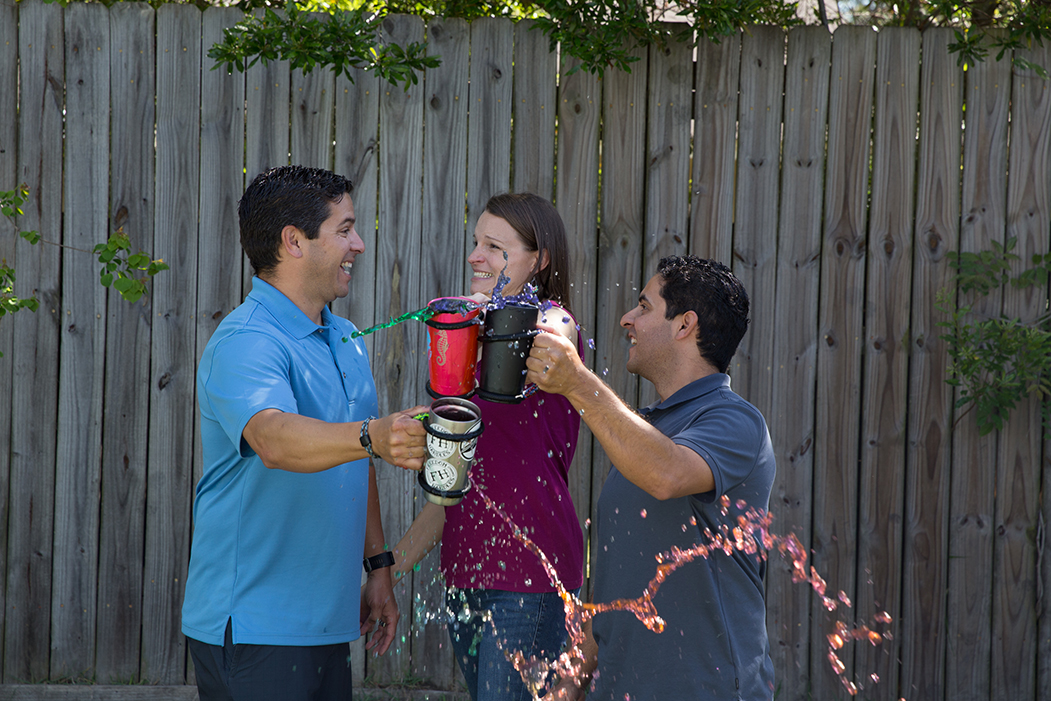 So, what's a Freedom Handle?
Grinning like a proud dad, Scott grabs a handle and explains that he and Renee originated a custom combination of "marine grade shock cord and true 550 paracord" and some proprietary interior fibers to create their product. The design process, he says, began after an accident. "I dropped my expensive stainless steel cup and broke the seal. The cup is no good when you break the seal." Several brainstorming sessions later, Freedom Handles was born.
The brightly-colored handles slide onto the stainless-steel cups, transforming the cylinders into more traditional mugs which are easier to carry, Scott explains. The current design, perfected during many nights of trial and error, is virtually indestructible and yet flexible enough to fit "almost every cup," Renee adds.
So, what goes into a Freedom Handle?
Scott: First, it's important to us that our customers know that we only buy from U.S. manufacturers. We don't buy the cheapest materials and we make every single one of these ourselves. There is no machine that does this, it's all us.
Renee: And we're a family business in the truest sense. Adam (Scott's brother) makes the insides, I wrap the outsides, and Scott does the finishing part and tells us what to do. (laughing)
Was the design an instant success?
Scott: There were a lot of adjustments in the beginning. We had to figure out how to make one that fit both sizes of the stainless-steel cups. And then Renee has really done a lot of work to perfect the tension of the knots, to make sure that it is just perfect.
Renee: We're on about version 3.0 right now. How did the retail aspect get started? Scott: It was really the owner of a local store out on the West End (of Panama City Beach) who gave us a chance. We showed him what we had and he said, "Give me 25" and we were so excited. Renee: Now we're at all sorts of local businesses like Sunjammer Watersports and Howell Tackle and stores from Texas all the way down to Key West. We're working on an order of 180 right now for a store in South Florida.
What's the best part of being in business for yourself and making a product in your hometown?
Scott: We just love interacting with people who have bought and use our handles. When we see them out in public and people don't know who we are and they're talking about our handles … that's just so cool. We set up and make our handles at festivals and it's just amazing when we make one and ten minutes later someone walks up and buys it. That's when we just look at each other and smile and think how incredible it is that this is our life.
Do you make custom handles?
Renee: We do a lot of work in the Fall with team-like colors, that's what our attorney told us to say (laughing), and then we've done the "thin blue line" for law enforcement and the "thin red line" for firefighters. We've also done some camo work for a sporting goods store. Many times, the retailers will just give us an idea of the kinds of colors they think their customers will buy and we can definitely work with that.
What's your goal for the next five years? Are you expanding?
Scott: Well, that's the ultimate question. We'd like to streamline the process and maybe get more help but we're not going to stop buying only from U.S. manufacturers and we're not going to stop making them right here at home. We don't want production to ever go overseas and we want to make sure we're employing local people, like stay-at-home moms who need a job, who think like us.
Renee: This is a handmade product and we're proud of that. We're "mom and pop" and we want to employ local people and support businesses that are "mom and pop" like us.
Scott: I think we've found a real niche in the market. These cups are everywhere around here but we know there are places that haven't even heard of a Yeti cup yet and so we know there's room to grow. We did just ship to Canada. We shipped a handle to a lady who has a son with cerebral palsy and he can't hold a cup but he can hold it with one of our handles. That was exciting.
Renee: We see that we can expand but we don't want to be a big corporation so there's a balance that we hope to keep. We're having a lot of fun right now and we want to keep it that way!
You will find custom ordering information and a list of current retailers on the website myfreedomhandles.com
Leave a Reply
comments
Powered by Facebook Comments