By Nick May, Photography by Sass and Soul Photography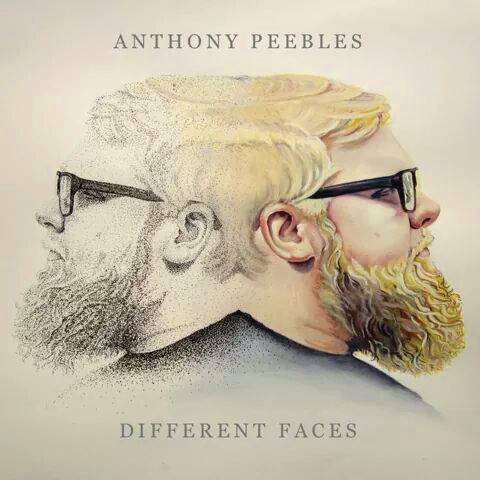 The first time I saw Anthony Peebles, he was playing Leonard Cohen's "Hallelujah" on an acoustic guitar at a house party on School Avenue in Panama City. He'd somehow managed to transform the tune, allowing a robust vibrato to shine through his youngish form. He was still outgrowing a certain level of teenage awkwardness, but Anthony's sound then was as straightforward as it remains today. Bright string hammering mixed with delicate finger work (á la Glen Hansard). Accompanied by his signature, belty, baritone vocal.
Sometime later, my band played a show with Anthony's folk three piece, The Dukes of Appleton, and they completely wowed me. There was a freedom, devoid of so many self-imposed rules of songwriting. They had a fantastical element. Like a band of bards, who might have played at Daenerys Targaryen's wedding. I told myself that if I ever got tired of doing straight rock, I'd love to be a part of something like that.
Naturally, when Anthony asked me to play bass for his next venture, Eagle Statue, I didn't think twice. It was the exact kind of different I needed. Rootsy. Spiritual. One electric. One acoustic. A small drum kit. A piano. And me. I remember Anthony being meticulous about the sound. The style. The dynamics. The songs were long. Some fast. Others slower. But they were all Anthony's familiar brand of grandiose folk flourishes and lyrics of pastoral reverie. And I trusted that.
Six years later, I see on my video chat screen the same Anthony Peebles I've come to expect. He is someone who expertly rides the wave of banter and business. The way farmers talk weather before anything else. It's something I relish now; being in the middle of a serious conversation with Anthony and watching, as he suddenly bursts into a fit of belly laughs. His hair is shorter now. His likeness, a little pixelated, due to the connection. But I recognize the half-shadowed face staring back at me. And somehow, it seems appropriate.
Nick: Catch me up. What all has happened since Eagle Statue?
Anthony: Eagle Statue was when I realized I wanted to do this as a career, while putting my own artistry on it. I noticed I got a lot of life out of that. Around 19 or 20, I started pursuing music more heavily. I moved to Nashville for about six months, came back to Panama City, got married, started gigging around here. That's when I meet this guy from Alabama, Tommy Jackson, who started a label (First Note Entertainment) with the sole purpose of finding talented people, getting money behind them and getting them what they need to be successful.
Nick: Sounds like a lot of heavy investment. Were you skeptical?
Anthony: At first. Then I slowly got to know Tommy, and his brother, Tim, who is a professional songwriter, and we got to write a little bit together, we naturally started developing trust. We ended up recording. I'll hopefully be touring next year, and I'll officially be launched as an artist next spring, around March or so.
Nick: When and where did the recording process take place?
Anthony: It took place, off and on, from June 2015 to June 2016—so exactly a full year—at RCA Grand Victor Sound, Studio A, in Nashville, which is a legendary studio [Anthony proceeds to drop so many names, I can't even keep up]. Under Grammy-nominated producer, Dave Brainard.
Nick: Musically, has anything changed since Dukes/Eagle Statue? I know you've led music in church circles. Is any of it religious?
Anthony: I've tried to write worship music, and I can't [laughs]. A lot of my stuff has those undertones, but it's not religious-based. I've always just felt that if Jesus is the king of your heart, everything naturally comes through that filter. Stylistically, my writing has changed, mostly because I feel I've gotten better in the last six years. Content-wise, melody-wise. Some of it has actually kind of thrown back to 60s and 70s folk. Overall, I've really kept the same style, because it's what I love. It's what I write naturally.
Nick: What are some big musical inspirations for you?
Anthony: Oh, The Beatles, of course. Fleet Foxes. I've been listening to The National a lot lately. I don't model my music after them. Mostly, I listen for pure inspiration. Pure enjoyment. If you try to glean something from it [stylistically], it becomes work.
Nick: Are you currently playing or using any of your older tunes?
Anthony: Well, the Dukes of Appleton stuff was so cool, I wouldn't ever want it to change. I just want to leave that there. Eagle Statue stuff, like "Weeping Willow." I've thought about taking some of that and doing something with it, but a lot of it was sort of half written.
Nick: How many original songs are you currently sitting on?
Anthony: I'm a slow writer. To me, if you're overwriting, you lose your creativity. I've written about 30 or 40 songs since February of 2015. When I perform live, I don't play more than 10 of my own songs. I really just try to play the best songs I've written. I like to play stuff that's not too artsy but will represent me well. Most of my set list is on lockdown. As far as what we've recorded, I'm really proud of it all.
Nick: In the past, you've worked under different band names. What's the benefit now of operating under the "Anthony Peebles" brand instead of a band?
Anthony: I was picked up [by the label] solo and decided to go under the single brand. It was something the label advised. When they ask me to do something, I try to stick to it, because I don't know what the freak I'm doing [laughs]. I've been playing with Jon Cummings and Kyle Paxton, off and on, since last September. For gigging and smaller shows. But I won't always be backed by them. Sometimes, I'll be by myself.
Nick: What does the next year look like for you?
Anthony: Well, a lot of waiting for the next month or so. Over the next six months, I'll be gigging around. I just played at the Bluebird Cafe, which was a huge honor, considering you can only play there if you're invited. Then during the spring, around March, will be the official release of the record and my official launch.
Nick: Where can people find you online?
Anthony: Online at FirstNoteEntertainment.com and soon at AnthonyPeebles.com.
Nick: Where can people see you play live?
Anthony: Every Wednesday at g. Foley's in Panama City, Every Friday in August at Hook'd on Panama City Beach, and every Saturday at Four Winds in St. Andrews.
Nick: Where can people hear your music?
Anthony: I sell physical copies of the new record at my live shows for $15. After the release, you can purchase digital copies exclusively from FirstNoteEntertainment.com.
Nick: And the new record is called…
Anthony: It's called "Anthony Peebles: Different Faces"