By Val Schoger, Photography By Rick Cooper
– – Just a few walking minutes from Historic St. Andrews, Charles and Mary Bonham have built their dream home on a beautiful waterfront lot. Their two-story house, framed by moss-hung oak trees, offers breathtaking views of St. Andrews Bay. At a glance, the house looks as if it has always been there, reminiscent of Old Florida. But yet, it is newly designed and built, with accents and decor that beautifully combine a charming look with modern amenities.
Charles and Mary spent many years finding their dream property. "We tried to buy numerous properties and, when we found this lot with a historic house on it, we realized there was a reason why we had not ended up with any of the others. We were meant to have it,"they explain.
When they finally bought and moved to their new home, they realized that they had to make a very tough decision. The old house on the property, while livable and beautiful to look at, lacked modern amenities and needed upgrades. "The house had historic value," Charles explains. "It had been built in 1903. We lived in it for four months and had every intention of remodeling it. We loved the character and the history but the house had been remodeled several times before. Unfortunately, each previous owner took a bit of character away from it with each remodel."
The Bonhams asked their architect, Michael Hunnicutt, and other professionals for advice. Everyone agreed that a new house would have more longevity and could be customized to fit their needs. The Bonhams were still reluctant to tear the old house down.
They explain, "We had so much respect for all the history. Our next door neighbor, Mrs. Jean Sapp, was raised in the house and she lives right next door now. So we decided to ask for her blessing. 'Honey, that's your house. You can do with it what you want,' she said and we felt better about our plans."
Two years later, the Bonhams have moved into their beautiful new two-story home and are taking every opportunity to share the breathtaking views with family and friends.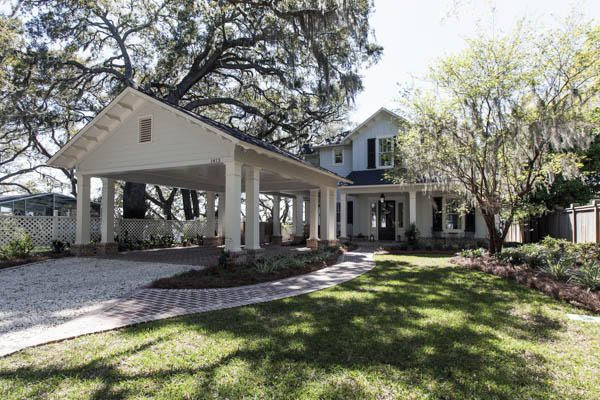 The first step through the entrance door of the residence is a revelation. Each visitor's first look will undoubtedly wander to the far side of the house to enjoy the open views onto St. Andrews Bay. It was one of several must-have features for the Bonhams. They proudly share the thoughts that went into designing and building the house. "Mike Hunnicutt allowed us to have a view of the water from every room. Even the formal dining room has a view. It is incredible what he did with the space we had," says Charles and points out that the lot is very narrow at 55 feet.
Eyes are also drawn to the unique and exclusive hardwood flooring. Dark oversized wood panels run the entire length of the house. "The wood was milled locally. It is made from sinker pine," Charles explains. "Sinker wood is recovered from the local waterways. Decades ago when pine was harvested and logged in large numbers, the workers floated the logs down the rivers and waterways, but some of the logs sank on the way. Today, recovery crews find the old sunken logs and reclaim them. Having been submerged for so many years has made the wood very valuable." Building contractor Griffin Mitchell Inc. carefully supervised the reclaimed pine logs and kept the end of one of the logs for the Bonhams. It is proudly displayed and shows the markings of the original sawmill.
Unique materials and design elements can be seen in the entire house. In fact, the Bonhams took an unusual approach at designing with a desire to envelop their many antique family heirlooms and other collectors' pieces that they have acquired throughout the years. Mary points to a beautiful large Oriental rug in the dining room. "The rug belonged to Charles' late mother. It is a family heirloom. She had it in her dining room. We told Michael Hunnicutt that this rug was a must-have item in the house. He designed the dining rom based on the rug's generous size."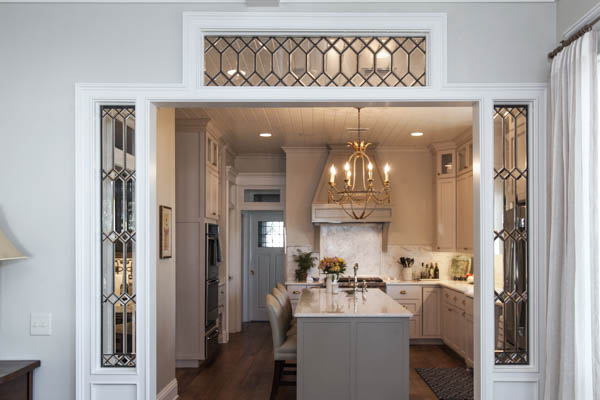 There are other treasures that influenced the design of the house such as the beautiful beveled glass windows that frame the passage between kitchen and living room. "These are double leaded-glass windows. Charles bought them for us on our first wedding anniversary 35 years ago," Mary remembers. "They have moved with us to each of our houses. First they were decoration pieces and, in our last house, they were sidelights of the front door. When you are building new, you have to follow code and we would have had to encase the lead windows with tempered glass to be able to use them as sidelights. I found a picture in a magazine that showed similar windows being installed inside a house.
We showed it to Michael Hunnicutt and he made it work beautifully."
The house boasts two outdoor patio areas. One offers a protected New Orleans-style outdoor space with a working fountain and beautiful brickwork. The adjacent larger space offers overhead heating for cold winter days and unobstructed views of the boat dock and St. Andrews Bay.
The staircase was custom built to resemble the staircase of the 1903 house. Wooden floors and beams from the old house were saved and reused to manufacture furniture such as the living room coffee table and outdoor tables and benches.
The house and décor are the epitome of Southern elegance and every room is well thought out, from the choice of subtle tone-in-tone wall colors to eclectic details such as custom built cabinetry that stretches to the ceiling and effectively displays the family's beautiful china. Other items were more involved, such as the construction of the small porch off the upstairs bedroom.
"We were striving for an elegant look but wanted the house to still be livable and not stuffy," states Mary. "I kept telling our interior designer, Lori Bates, that we are active people. We have kids and grandkids, we have dogs and a cat, and we want to be able to kick our shoes off at the end of the day."
Mary's eyes follow their first grandchild, Henry, as he runs laughing from one room to another to try to catch his granddad's attention. She shares with a proud and heart-melting smile that the family is soon to get bigger. Daughter Carol and son-in-law Carter are expecting a baby and so are son Mac and daughter-in-law Garrett. Both grandbabies are due in May.
The proud grandparents are all smiles when they watch Henry play. The toddler is determined as he grabs a miniature fishing pole and takes his grandfather by the hand. He is bound for the outdoors.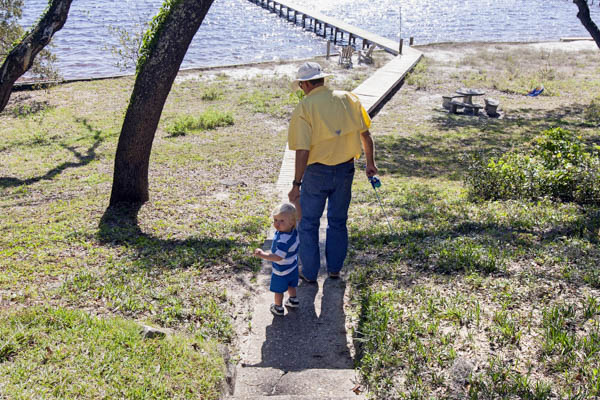 As Charles and Mary put it, "It's all about the outside and God's nature is what we treasure most. Our family and friends enjoy gathering here and we often walk to Historic St. Andrews. Our house has many features that you will find in similar form in any other new construction but the fact that our home is in St. Andrews is what's special to us."
About Historic St. Andrews
Of all the neighborhoods in Bay County, Historic St. Andrews is the most lively and versatile with bustling restaurants and tranquil settings. Old and new are side-by-side. From Oaks By The Bay Park, one of the most photographed settings, to the working commercial marina with rugged fishing boats coming and going, to quaint living spaces with beautiful vistas, this part of Panama City has been transformed in recent years and is one of the most popular areas in Bay County. New businesses, trendy coffee shops, boutiques, and places such as the Floriopolis Arts Center and the weekly Waterfront Farmers Market make it a wonderful and inviting community.
The main thoroughfare, Beck Avenue, and its side streets are lined with old Florida cottages predominantly built in the beginning and middle of the last century. Slowly, new buildings are starting to replace what is too old and inefficient to restore. Waterfront lots in St. Andrews are highly sought after.
Leave a Reply
comments
Powered by Facebook Comments