BY VAL SCHOGER, PHOTOGRAPHY BY NICK TRAIL


Olivia Clemons' paintings are studies of nature and light – from sun-drenched landscapes and far horizons beyond expanses of water, to the vibrant colors of trees and sky. "I am trying to capture the beauty in everything around us," she explains, "particularly the lighting on the water, the depth, the ripples."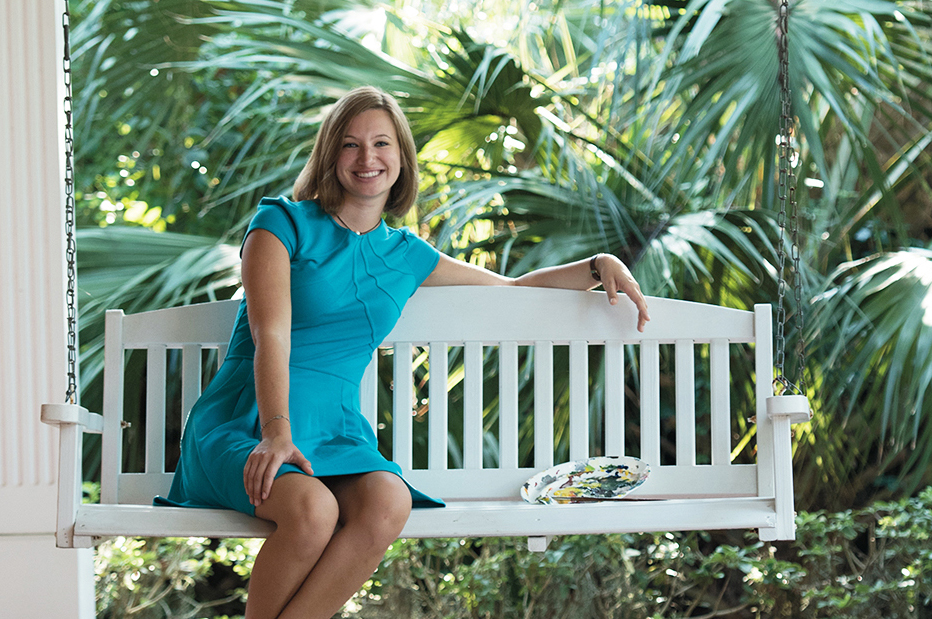 The Panama City native, in her senior year at Flagler University in St. Augustine, organized her first solo art exhibit in downtown Panama City this year. The event prompted an outpouring of love by family and friends. All paintings sold within the hour.
Nothing indicates that just a few years ago, the young artist with the bright blue eyes and contagious smile had to overcome a life-threatening heart condition. Today, she radiates happiness and fearless determination. Olivia personifies vitality. Her love of art and devotion to God are inseparable. As her gaze traces over her work and she describes the challenge of catching the light on canvas, she seems completely absorbed, hardly aware that she herself is an inspiration
Do you remember when you first started to draw or paint?
Since childhood. It's funny, I can't even tell you when I started, because I've done it my whole life. It's something that I've always loved, putting ideas down on paper. I'm a very visual learner, and I always just draw everything out. I think, over the years, it just developed from something that I love doing to something I think I can relay emotions with; I can relay different ideas. I can put into a painting what I can't put into words.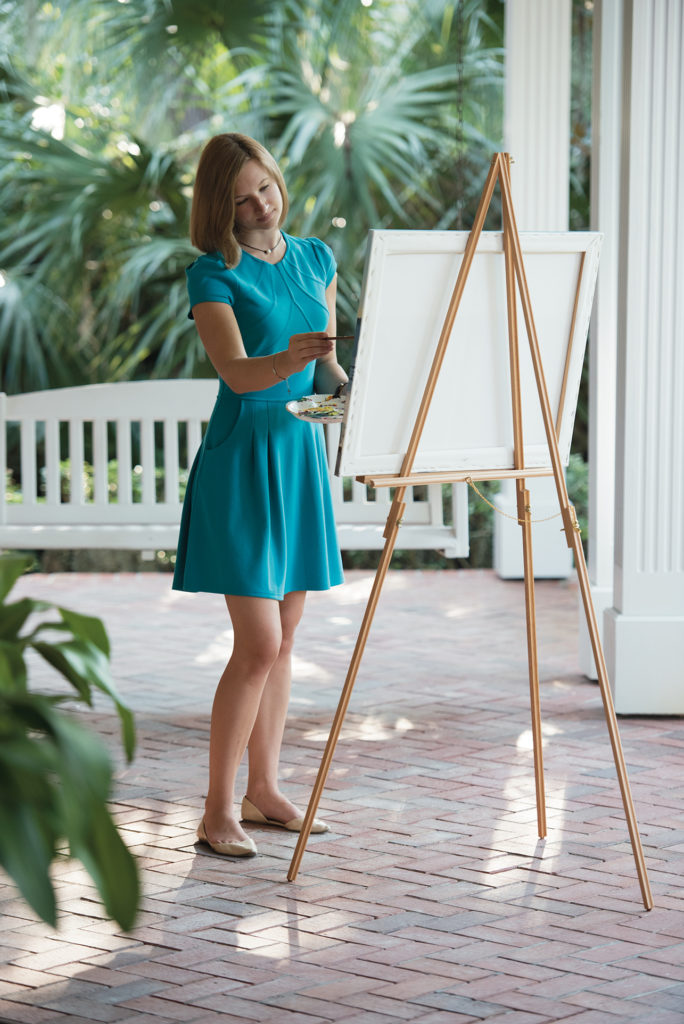 What inspires you to paint?
You can see from some of my pieces that my faith is really important to me, and that's something that inspires me.
In the process of painting, do you think about your audience? Do you think about who will be seeing these paintings and what they will be feeling? Is there a message that you'd like to convey?
Certainly. I try to relay my perspective, relay the beauty and capture that. I love the idea of capturing a single perfect moment on canvas that someone can hang on their wall and you could wake up to every morning and just be reminded of the beauty of the day, the gift each day is. That's what art does for me, so that's what I hope I can give to someone else through a painting.
I see different styles in your paintings. Would you say you're still finding your way, your visual voice and style so to say? And exploring the limits? 
Hopefully, I will never reach a point in my art where I stop. So many artists have an incredible style and have perfected it, but to me, part of the magic is trying new things and finding new ways to create light or create color or contrast in paintings or even changes in subject matter.
Do you have a certain art movement you identify with? Or do you have a preferred painter, maybe?
I like the impressionists, illuminism, the Baroque period. I have a preference for Early European art, post-Renaissance art. Caravaggio is my favorite, although I don't think that's reflected in my style. He has a way of telling a story through a painting that just captivates me. I think that that's something that explains the differences you see in my work. I've been taking art history classes, and I'll go through the classes inspired to try and capture something with the technique or the ideas of famous artists of different styles and eras.
In your future career, do you see yourself as an independent artist, or maybe as an art teacher?
As a career, I would love to work in a children's hospital, as an arts teacher for pediatric patients. There's an incredible program at Wolfson's Children's Hospital in Jacksonville. It's called Art With A Heart, and they have artists-in-residence who work at the hospital, full-time. They conduct art projects with patients, particularly long-term-care patients. They do arts and crafts with the kids and get them all together; it's therapy for the kids.
Ideally, that would be a program that I would be interested in, but I also think about getting my master's in art therapy, which is provided in most larger hospitals. I love kids. I want to wake up every morning and feel like I'm making a difference, that I can do something meaningful. I will be trying to share and to inspire and hopefully give hope.
I can imagine that it would be very challenging and demanding to work with kids who are terminally ill.
I think it will be, but I feel that that's what I'm called to do. I feel like I can bring joy and even if it's hard, because to see what a child's going through, to know that I can make their day just a little bit better or even if they don't want to do art, to give them the opportunity to say no to something, that they don't have to do something, there's a freedom in that I think would be worth the pain to watch them in a difficult situation.
It sounds like a wonderful opportunity, but you will also have to put your emotions aside to comfort an ill child. I always imagine an artist as a free-spirited being.
I think that's the magic of it, that I want to bring that free spirit, that joy, and a kind of peace. I know when I paint, I can just get lost in painting. It's an escape. It's something I can do and put my whole self in, lost to the world around me … but in a good way. To be able to bring that to someone, a child in a life-threatening situation, would be incredible. I've always loved kids, but I haven't been in that setting before. I am applying to a volunteer position at a children's hospital towards the end of August.
Do you mind if I ask you about your heart condition and your health during your childhood? Did it influence your art?
Yes, it did. Growing up, I spent a lot of time having to lay down in bed and rest, and there were days when I couldn't go to school. I would draw if I didn't feel well enough to get out of bed. That was my outlet. Or I would be in the hospital, and I would draw. That's why I want to pursue working with children in a children's hospital … for me, it was such an outlet. It was something positive, something great that I could do that just brought such joy to me during harder times. I think God really blessed me with that. I feel like the worse I was, the worse I felt, the better my work, artwork, was and is.
I've grown up with it, and I am the person I am because of it. I don't think I would be the same person, or the same artist, without it. I firmly believe God works good in everything, and for me, that is my artwork and, hopefully, my character.
It's very tough to hear that you were not feeling good enough to do anything else but draw and that the work was better because of your illness.
I think better, because I put all of myself into it. I was so focused on it. It just poured on to the paper.
It was one of the ways my family could support and help me by bringing me art supplies when I was not feeling well. I could explore and try something new, and in a way, it was like getting out of bed. That's doing something, I think … just to be doing something is incredible when you're in that situation, to feel like you can create something. You have the capacity to do more than just lay there when all you can do is lay there.
Did you have an "aha" moment that put you on your future path?
I wouldn't say for art, but I would say in my faith I have.
Back to your current work. I can imagine it is tough to sell a painting that you spent so much time on. Does any one of the paintings evoke something or is so dear to you that you couldn't sell it?
I have one drawing that I did in high school that I'll never let go of. It's a little boy and an angel, and the angel has a lantern. The angel is guiding the little boy. It's white charcoal on black paper. I think the light is really the focus, and there's something about that painting … there's a prayer that I grew up with about a guardian angel. It was my inspiration. It is a childhood memory of an angel leading you through the darkness. It is really personal to me … I put the most of myself into that drawing, and I did not base it on any pictures. I drew it from my mind. I don't think I would ever part with it.
And the nice thing is, in a community like this, if I sell a painting, I generally know where it is going to so it doesn't feel quite so separated. It might be different if it were someone from out of town that would come buy my painting and I would never see it again.
You said something interesting about prayer. You are spending so much time with very intricate details in your paintings, do you see a connection between painting and praying?
I think my art is a gift from God. I want to use any gift that he has ever given me to the best of my ability. And so, in a way, I do feel like it's connected with faith. I feel I should share it with others … as well as anything I have.
If you had to compare painting and praying … what are your thoughts? 
I feel like I can't say anything about prayer without putting art or my painting in a negative light. Painting brings me such joy, but that joy is not comparable to the joy that I feel when I pray, when I feel like I'm close to God, and I can feel his presence. It is a joy, but it pales in comparison to that.
Leave a Reply
comments
Powered by Facebook Comments