BY OLIVIA CROSBY, PHOTOGRAPHY BY MICHAEL BOOINI


Panama City Beach native Lucas Dunn has impressed many of his coaches throughout the years. The Arnold High School graduate plays Division One baseball at The University of Louisville where he studies Sports Administration. "It was really a no-brainer," he says about signing up with the Cardinals. With a Louisville-born father and extensive family in the area, Lucas has been a Cardinals' fan since he can remember. With the University emerging as one of the top programs in college baseball, it was his first choice.
Like many baseball players, Lucas began playing when his parents signed him up for little league. He was 9 when he truly realized his passion for the sport, but it was at age 14,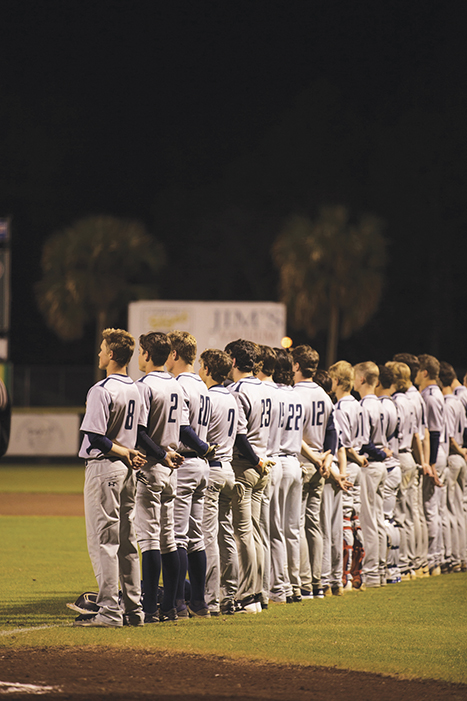 while playing in Atlanta, that Lucas was discovered by one of the scouts for the German National Team. A whirlwind of events followed. He played in Germany, Japan, Sweden, Mexico, Spain, and The Czech Republic – all while attending Arnold High School and playing for the Marlins in Panama City Beach. At Arnold, he initially began playing in the outfield and moved to second base, and then to shortstop and finally to pitching. It made him a diverse player while balancing education and, at same time, keeping a good head on his shoulders.
Those who have watched Lucas play have witnessed firsthand his liveliness and durability. His friends and family will know he holds his faith first, while baseball will always come second.
What are your biggest moments in baseball from the time you began to now? 
Beating Mosley High School for the first time in school history. It was fun and memorable because I was playing with my best friend, surrounded by fans.
You play multiple positions. Which is your strongest and why?
I think I am strongest at second base. I am very comfortable there.
How do you balance education and baseball?
It is very difficult in college.  We are so busy but they schedule study hall for us which helps in getting the work done.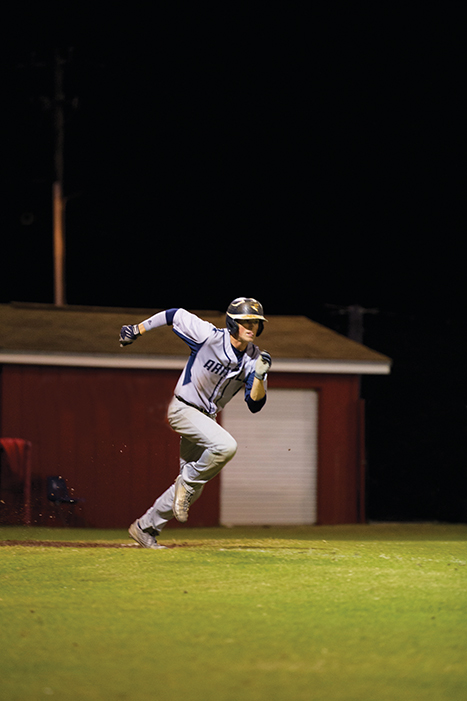 What are your plans in education/career and for the sport? 
If all goes as planned, I would like to enter the draft and continue playing. But if not, I would still like to have a job in baseball.
What made you decide to pursue baseball as a potential career?
I just played travel ball seriously and it eventually turned into getting recruited during my freshman year in high school. That is when I made the decision to play college baseball.
What is your earliest memory of the sport and did it inspire you to play? Did you have other sports that you considered? 
I remember playing for the 8u Panama City Beach Sharks. We only won four games all summer. I hated losing and it motivated me to get better. I also played football and soccer when I was younger but I didn't have the same love for it like I did with baseball.
Is there a player you look up to?
I love the way Bryce Harper plays, his energy, the toughness he plays with, and the way he dominates the batter's box. That's how I try to play in every game.
How does your training differ during the season and preparing for the season? 
During season I do less weight training, I usually just try to maintain. I practice much more, like batting practice and taking ground balls and fly balls. In the off season, I work out much harder and more often and I like to give my throwing arm a little bit of rest.
How do you prepare for the baseball season?
Here at Louisville we are going to play a lot of scrimmage games during the fall. Coach Mac loves competition and believes that playing against each other is the best way to prepare for the long seaso
n.
What was your biggest take away from the German National Team? 
I learned so much about different cultures, in general and in baseball. I also made a lot of new friends and made connections with coaches.
Is there a difference in playing styles inter-nationally? 
No, they play the same way for the most part, but some countries put their own spins on the game. Dominicans are much more flashy and loose than the Japanese who are very mechanical and simple. The Dominicans for example admire their work a lot more. They'll watch a ball that they hit hard instead of starting to run immediately. And they will barehand balls and go between the legs instead of fundamentals.
Did you have to make sacrifices to be able to play internationally? 
Yes, I missed lots of time at home during spring break or summer. And even missed some recruiting opportunities in the states, but wouldn't trade it for anything.
Describe your experiences with the German team. 
I loved playing for Germany and representing that side of my family. I played all over Europe and my family from that side of the world could experience the game I love so much with me. We visited so many different countries I would have never experienced without baseball and the German team. It was special to represent the entire country in world cups and sing the German national anthem. I know what I do is important to many in Germany. It was an honor to have been given that opportunity.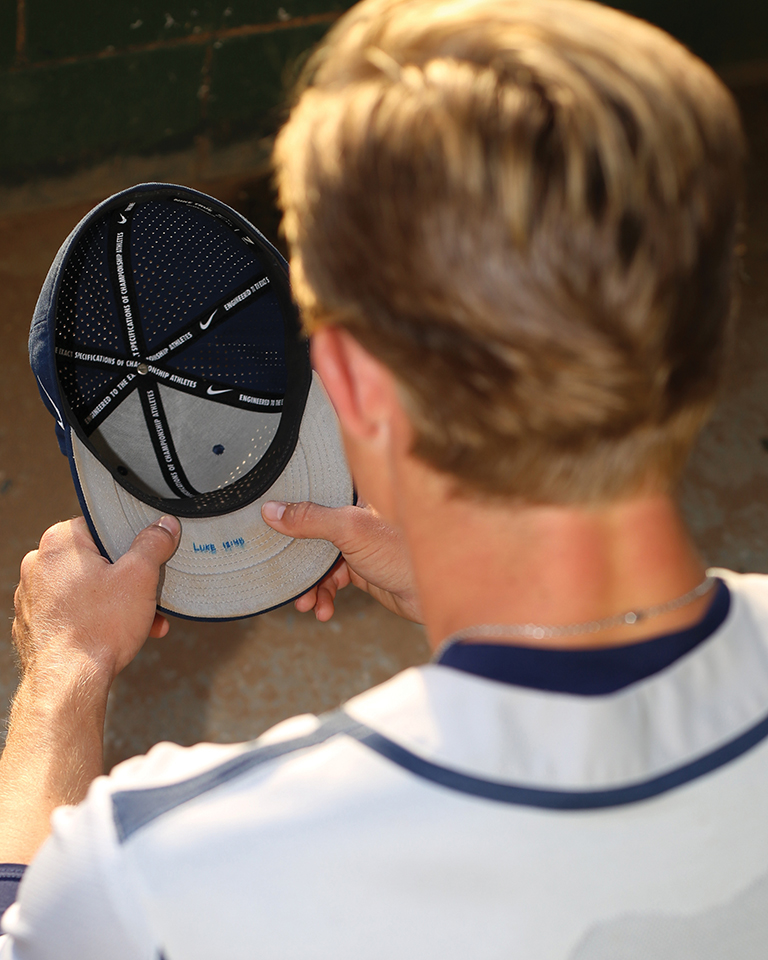 What was that like to play internationally and were there special requirements? 
It was different because every country is different on how you get prepared for a game. Whether you get batting practice or not, or how long between games.
You have a bible verse you write in your gear. What is the significance of that to you? 
Luke 12:48 "to whom much is given, much is required." I have been so blessed with amazing opportunities, and been surrounded by people who have supported me, and helped me get to where I am now. But now, it's up to me to use all the resources I have been given and do something special.
Do you have concerns about getting injured? 
No, I play fearlessly and with Faith. I always play hard and if I do happen to get injured, then that's God's plan and I will trust Him with my future.
What is your response to the claims that baseball is losing fans to higher action sports?
I don't see it. I love the way baseball is evolving. It is exciting and everyone I know still likes baseball.
What advice would you give younger players looking to follow in your footsteps? 
Work hard! I didn't get where I am the easy way. It is tough physically and mentally, but it is worth it.  Chase your dreams hard enough and they can be achieved!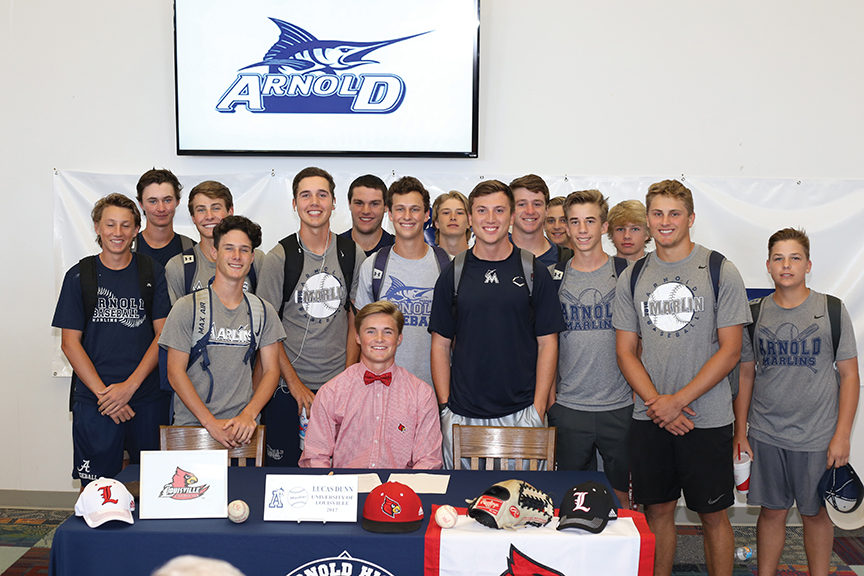 A short time after the interview, Lucas contacted us to see if he could add a personal message to all the people who supported him throughout the years. He wrote, "… I wanted to thank you and the staff for giving me the opportunity to share my story with this community as they were such a big part of it. Many have supported me since day one and I wouldn't be where I am today without them. I couldn't think of a better way to thank them than in this article…" 
Leave a Reply
comments
Powered by Facebook Comments