By Allison MacLean, Photography by Nick Trail and Mike Ross
When I admire jewelry, I usually do not think about chemistry, architecture, and mathematics. Yet, Emilie Pritchard's intricate jewelry designs challenge all my previous perceptions. With science as a source of inspiration, the artist creates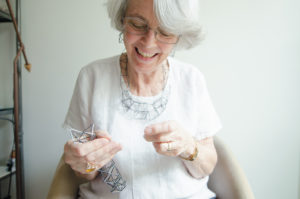 intricately designed and executed necklaces, bracelets, and earrings. She mirrors DNA structure with laterally connected silver tubes reminiscent of structural engineering. Her hand-woven bead clusters look like the molecular structures found in a chemistry book.
I marvel at the artist as she explains the building blocks of her I marvel the artist as she explains the building blocks of her jewelry designs with genuine delight and excitement, using hand gestures and terms like octahedron and tetrahedron. Her art has evolved and has changed form since she first started, she explains. Over the years, Emilie Pritchard has stretched her mind, deliberated, wrestled, and learned new concepts and, just like her art, the artist offers inspiration for pushing our mental limits.
It seems your art is very much the work of a perfectionist. What is your background?
I do not have a formal education in art. I have a law degree from the University of Chicago. My husband and I are originally from Ohio. Back in 1976, we bought our sailboat and headed to the Caribbean. But we didn't quite make it to our destination. Once we stopped in Panama City, we never left. We bought a boating business next to Captain Anderson's restaurant. Shortly after, we moved it into town, to a place by the drawbridge at Tarpon Dock and, in that time, I started weaving on a loom. First I wove clothing fabric and then rugs. Then, in 2004, we bought the shop in Millville next to Sweet Magnolia's and have remained there for 10 plus years. If you had gone into that shop, you would have seen the sail boating supplies on one side of the store and my loom set up on the opposite side.
How did your artwork evolve and what inspired your unusual jewelry pieces?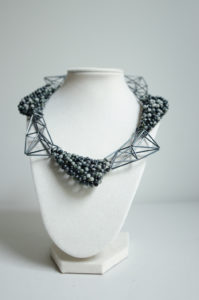 After 20 years of working with my hand-dyed yarn and a loom, I had proven to be a weaving expert. With pieces of my intricately woven designs appearing in museum shows in such places as the Smithsonian Institute, the Tampa Art Museum, and others, I began craving something more—a new challenge, a fresh dimension. Inspired by an article in Ornament magazine, I began a pursuit to implement my rug-woven geometric forms into jewelry—three-dimensional beaded jewelry.
Please describe the process of making your jewelry. It looks very elaborate.
I begin the work with 12" silver tubing that I customize by oxidizing the silver. This gives the silver a darker color. The tubing is then cut to desired lengths and woven together with high strength synthetic yarn, rather than soldering the metal. This allows the jewelry to have movement that other equally sized pieces lack.
What was your degree of trial and error with beadwork?
Moving from 2-D weaving of rugs to creating 3-D woven beaded jewelry, I felt that my crafting skills had to catch up to my design skills. It took practice and time and, like any art, continues to require fine tuning. Even now, I can study a finished necklace or bracelet for days, feeling that an element is missing, before altering the piece to its final form.
What reaction and feedback do you get from the people who buy and wear your jewelry?
I've observed that people who wear my work like to be noticed a bit. It's quite different from most of the jewelry out there, so it draws attention. I wear it quite often myself, so I hear the compliments. Also, most of it isn't "dress-up" jewelry. You can wear it with jeans or a sundress, so it fits well with the casual lifestyle we have here on the Gulf Coast.
Your jewelry has been on display in museums across the country. Would you prefer to see your pieces displayed or worn?
I really like to see it worn. I put great effort into how it looks and feels on the body. I love doing museum shows as a way of getting my name out there, but the ultimate purpose is to have people wearing the pieces.
Would you describe your work as wearable art?
It's a good term because it emphasizes the individual vision behind each piece. So much of what we're surrounded by comes from factories that produce thousands or millions of identical items. So, it's nice, especially in something as personal as jewelry, to know that it comes from the particular vision of an actual person and that it's a unique piece.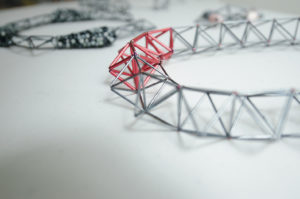 What are your thoughts on art versus craft?
I've had people say of my work, "It's not craft, it's art." I think that's just their way of saying they think it's good. But I don't like the idea that if craft is "good enough" it becomes art. I'm a craftswoman and I think that's an honorable title. For me, it just means that I have constraints in my work that aren't there in pure art. For example, if I had an artistic vision that calls for a bracelet that's a foot in diameter, I could not create it because it will fall off…or earrings that weigh a pound each because they're too uncomfortable to wear. I like working with constraints and finding unique, artistic ways to fit within them.
What are your plans for the future?
I would like to increase the number of galleries selling my pieces. My husband and I love to travel and we are looking forward to more of it. I can easily take my art and supplies everywhere we decide to go. The materials for jewelry weaving are much easier to pack than my yarn and loom.
I also have hopes to bring beadweaving into local after-school clubs to foster an early understanding and appreciation of geometry and chemistry and, of course, the arts.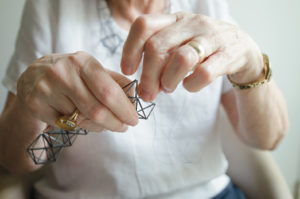 Emilie Pritchard's pieces can be seen online at EmiliePritchard.com. You can also watch her creative process and learn more about her jewelry by following her blog at EPOriginals.blogspot.com. To purchase this eye-catching jewelry, simply log onto her store website at www.etsy.com/shop/EPOriginals. You can also find some of her jewelry at Newbill Collection by the Sea in Seaside. The Star Gallery in Historic St. Andrews will have some of Emilie's jewelry on display later this year. Custom designs and inquiries are most welcome.
Leave a Reply
comments
Powered by Facebook Comments