By Val Schoger, Photography By Matt Koehnemann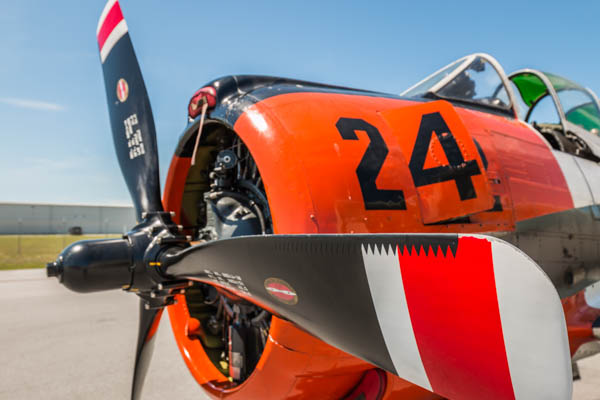 For the last two years, Panama City Beach-based tech company Edge Aerodynamix has tested and analyzed the flight data of an invention that could save airlines billions in fuel costs, according to Peter Ireland, CEO of the company.
The invention is a thin layer of engineered adhesive material with patented design. Barely visible when installed on aircraft wings, during flight, the product helps direct airflow, reduce drag and makes the operation of the aircraft more economical. "As simple as it looks, we have developed an aerodynamic device that works to improve transonic drag," Peter Ireland explains. "We use very lightweight engineering and the least amount of invasive devices to achieve the outcome."
Edge Aerodynamix operates a fleet of currently 19 aircraft out of Hangar 4 at Northwest Florida Beaches International Airport. It has installed and tested its product with variations and adaptations to fit each aircraft's design. Among others, the outfitted fleet includes two helicopters, a Learjet, a Boeing B737, a vintage U.S. Navy T28B, and, Edge Aerodynamix's most recent acquisition, an Airbus A340-300.
To comply with FAA rules, bold letters declare each outfitted aircraft as "Experimental." As small as the modification might seem, its impact is recognized by the Federal Aviation Administration and designates it as an "alteration to the design of an aircraft." Strict permitting processes apply before the product can be distributed and applied to commercial aircraft. Peter Ireland notes that all flight test data has been submitted to the FAA and the product is awaiting approval in the form of an STC, a supplemental type certificate.1
A native of Rhodesia 2, Peter Ireland started in the New Zealand Airforce as a pilot and safety officer and later joined the Royal Australian Airforce. He accumulated 17,500 hours on jumbo jets (B747 and B777's) as a captain and co-pilot while working for airlines around the world. He has amassed more than 23,000 flight hours on various aircraft. He also holds a Masters of Aviation Management.
Peter Ireland started researching and experimenting with variations of his now patented invention 23 years ago and began systematic analysis when working as a helicopter pilot. Protective adhesive tape is used routinely on helicopter blades to prevent damage and abrasion caused by high rotating speeds. He designed and engineered a protective tape and noticed an immediate change in the helicopter's performance. "The next day we did five tests back-to-back. I put the device on, the power requirement went down. I took it off, the power requirement went up. I noticed about 10 percent reduction in torque required to spin the blade at zero angle attack. A vortex generator is expected to improve lift/drag at high-angle attack. That's about the only time it does. On a rotor, a conventional vortex generator actually catastrophically increases drag." His work ultimately resulted in permitting and issue of an STC for his invention in helicopter applications in Australia.
Independent studies substantiate Edge Aerodynamix's work. "The U.S. Army released a study in 2012 on the Black Hawk helicopter, its SC1095 blade in particular," Peter Ireland explains. "They realized that at maximum lift/drag ratio, there was up to a 30 percent reduction in lift/drag ratio by having a five thousandths of an inch step on a 21.75 inch cord on the blade. This is a similar concept Edge Aerodynamix is basing its products on, and is what we mitigate on the helicopter rotor STC."
According to Edge Aerodynamix, wing lift to drag improvements of up to 25 percent can be achieved when the correct installation and product is used for an aircraft. Substantial results can be seen on large fixed wing aircraft. The company's current tests on a B737 jet show a potential fuel saving of 6 percent on long distance flights says Peter Ireland. He notes that the wing is only part of total drag, but the product is effective in other areas as well.
With its products, Edge Aerodynamix provides an innovative solution to an aircraft operator's biggest cost factor: Fuel Consumption. It is the most determining factor on an airline's yearly profit report. Published statistics show that fuel expenses on average account for 30 percent of airline operating costs. Airplane manufacturers have looked at ways to gain fuel efficiency for years and new airplanes are more fuel efficient by design. But the reality is that airplanes will stay in service for many years. Airplanes in today's airline fleets have an average age of 14 years. 3, 4
"Of course we are not the first to look at this," says Peter Ireland "NASA has done studies in particular areas that we're working with. One solution were "winglets." Boeing developed winglets for several of its aircraft and has retrofitted several of its aircraft. Airbus calls a similar design "sharklets." But the installation along the edge of the wing corrupts the surface flow so much that it reduces the benefits. There's also a second matter of vibration."
According to press releases, winglets or sharklets offer 4 to 6 percent in fuel savings which translates to a very significant figure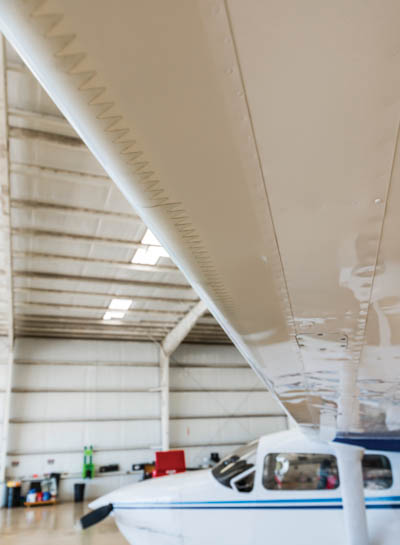 when considering jet fuel prices. Airlines have invested millions in acquisition and installation of winglets, sharklets and similar devices.
According to a Chicago Tribune interview with a United airlines executive, "a single set of scimitar winglets on one plane at United saves about 45,000 gallons." 5, 6 
Edge Aerodynamix is aiming at similar results in fuel savings, except, their solution will come with an initial price tag of zero for airlines. Zero cost is a stark contrast to time and investment-intense winglet development, acquisition, and customization for each individual aircraft. Instead of being charged for the edge invention, the airlines will agree to a savings-revenue-basis where Edge Aerodynamix receives a percentage value of the fuel savings. The airlines understand the technology and 16 airlines are interested in the product once it is approved by the FAA, says Peter Ireland.
With the developers of winglets and sharklets disputing over royalties 7, are there other companies that might be able to set a claim to fame by developing products similar to Edge Aerodynamix's? "Good luck," Peter Ireland says. "The products we have lined up, the first dozen products series, cover the production of a dozen different airplane models and is a matrix of about 144 different products to go out the door. We know where we're going and have started on the secondary step of procurement for the 320, 340, 777, and 767. We are a new technology and a new area of research. Someone who is just getting started would have a long way ahead of them and would look at quite an investment in testing and certification of the product. Our current products will be our bread and butter for now but there are many other research areas we are involved in. It will be our main focus to develop new solutions."
About Edge Aerodynamix
Governments around the south are investing vastly in attracting new technology companies and tech-innovators that show long-term commitment like Edge Aerodynamix are courted, supported, and celebrated. However, the deciding factor to set roots in Bay County is of personal nature for Peter Ireland. "My brother lives here. He's a very good research scientist in his own right. He suggested that it was a great place to come and work. I've got to say that from an airspace and operations point of view, the airport here is fantastic. We do some interesting flying. We fly formation with jets and helicopters and various other things. We do a lot of research. The airport here is out of the way and doesn't cause noise problems. And, of course, you can see how beautiful the beach and sunrises are. It's not a hardship to get new employees to come here and we have hired highly-trained employees who retire from the surrounding military bases."
The team is steadily expanding and consists of engineers, analysts, and flight crew with work experience in civil and military testing and operations, support, research and development, and certification. Ten employees work at the hangar at Northwest Florida Beaches International Airport and 25 employees are stationed at a second location, 20,000 square foot of office space in the heart of Panama City Beach where a super computer will shortly process data and machinery is ready to start production of the edge-invention.
Edge Aerodynamix has an ongoing academic support agreement with Oklahoma State University's Aeronautical Engineering faculty and other institutions are being considered to be added.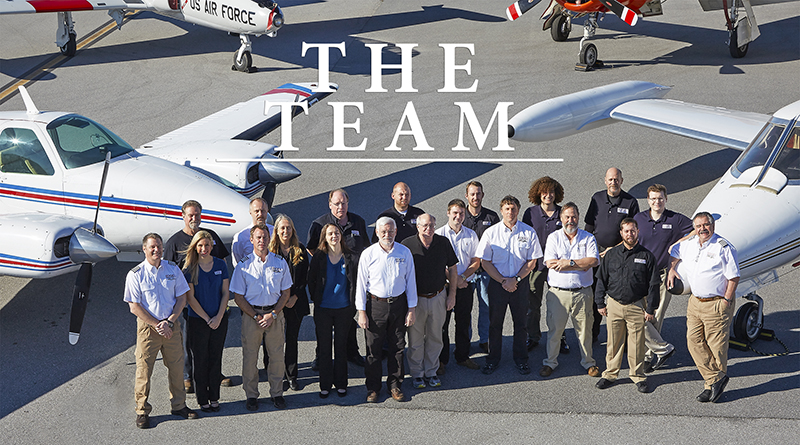 Sources: 
1 Supplemental Type Certificate (STC) is a type certificate (TC) issued when an applicant has received FAA approval to modify an aeronautical product from its original design. The STC, which incorporates by reference the related TC, approves not only the modification but also how that modification affects the original design.(http://www.faa.gov/aircraft/air_cert/design_approvals/stc/)
² modern day Zimbabwe
3 http://www.cnn.com/2010/TRAVEL/02/01/planes.age.dreamliner/
4 Airline age survey http://www.airsafe.com/events/airlines/fleetage.htm
5 http://articles.chicagotribune.com/2014-03-04/business/ct-airline-winglets-0302-biz-20140304_1_fuel-savings-jet-fuel-southwest-airlines
6 http://theflyingengineer.com/flightdeck/winglets-and-sharklets/
7 http://www.wsj.com/articles/SB10001424052970204778604577239583270202816
Leave a Reply
comments
Powered by Facebook Comments