BY OLIVIA CROSBY | PHOTOGRAPHY BY MICHAEL BOOINI
He is a man's man who can shoot a gun, hunt just about any animal one can think of, loves and fears the Lord, and loves his wife and family just as much. He is an invasive plant management biologist for the Florida Fish and Wildlife Conservation Northwest Region. He is devoted to his family, friends, and work, but there is another aspect that defines him; his passion for fulfilling the dreams of disabled or terminally ill children. Derek Fussell is the founder of Camo Dreams, a Panama City-based nonprofit organization. What are "Camodreamers," you ask? They are children who could never think about going on an outdoor adventure if it wasn't for Derek Fussell. Derek helps them experience the outdoors with dedication and special care.
"Someone's hardships can be someone else's encouragements," Derek explains. He recalls the difficult and challenging times he and his family experienced thirteen years ago when his mother was diagnosed with cancer.
For several years, Derek's friend Chad Redding has helped Derek expand what is now Camo Dreams. Chad's daughter had been diagnosed with leukemia several years earlier. She was successfully treated and is now a senior at Bay High School. Chad also wanted to give back as he was on the receiving end of so much support from friends and family.
Between his mother and his good friend's daughter, Fussell experienced difficult and emotional times but he also received overwhelming support and love from family and friends. This is when he knew it was absolutely time to give back and make a difference in people's lives. He wanted to help children. "I knew that if I could help a child, I would help the entire family," he remembers. It is exactly what Camo Dreams has become.
Fussell, who often sports some type of fishing or hunting clothes, is the personification of an outdoorsman. Kids look at him with wide eyes. If there is one thing that gets a child's mind off any health struggles and condition, it is the opportunity to participate in a once-in-a-lifetime adventure. The motto that describes Camo Dreams best; "Some people don't dream in black and white, they dream in camo!"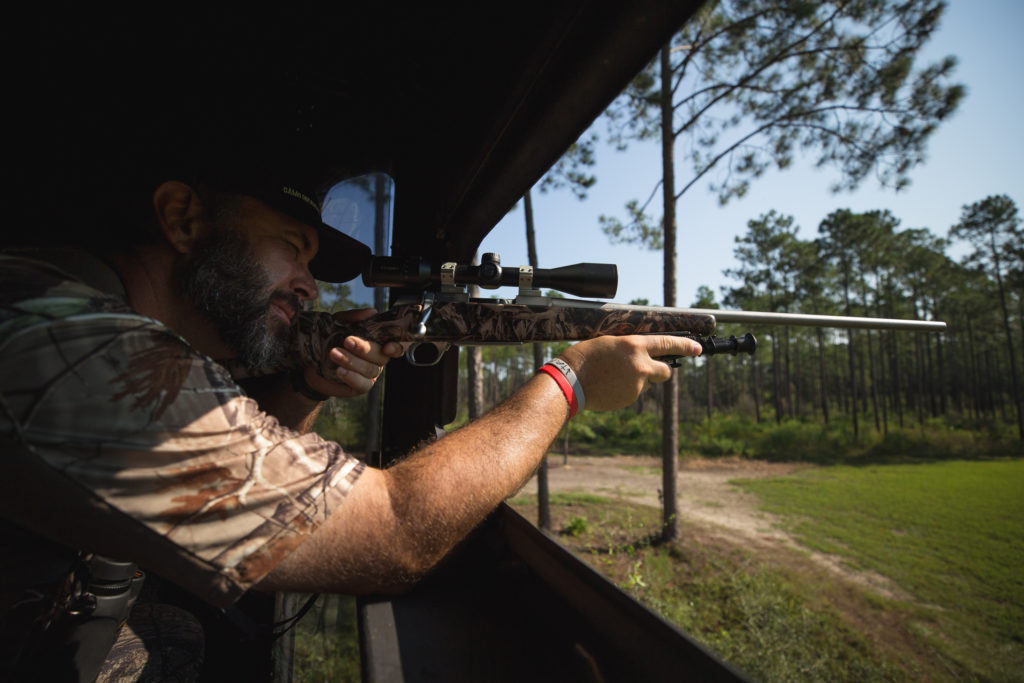 The first time Derek took a child on a hunt was in 2004, before the foundation was created. "I figured we would take one kid on a hunt a year," he remembers. "But we soon had much more demand. In 2006, we became a nonprofit organization. This year marks the fiftieth child taken, and 61 trips so far." He describes the overwhelming amount of encouragement from all his friends and family. But the most important are the Camodreamers and their families, he says. "The kids come from all over; Arkansas, Georgia, Florida, Tennessee, Mississippi, Alabama, South Carolina, Texas, Louisiana, and even as far away as Pennsylvania. It is incredible because I now consider them my family."
What is the process?
Typically, I am contacted on the website, by social media, or word of mouth and I send the family an application. I will contact the family after reviewing the application to discuss hunting options.
What does the application look like?
The application has background information one would expect: Name, age, address, etc. It also asks if the child has received any other wish from any other wish-granting organization. The second part of the application asks about the parents, the third part is about the child's medical information and history, the child's diagnosis, doctor, and all medical needs the child has, including limitations… so we can always be accommodating. The last part of the application asks the child to describe his or her outdoor dream with as much detail as possible and asks how experienced the child is with hunting, and what animals they have ever successfully hunted before.
Where do you go?
We have had hunts in Florida, Georgia, Alabama, Illinois, Missouri, Utah, Montana, and Oregon.
What does each Camodreamer receive from this other than wonderful memories?
Thanks to our sponsors and donations, Camo Dreams pays for each Camodreamer's travel and takes care of all the hunting and lodging expenses and food while on the trip. The Camodreamer can always bring along family members. At the end of their successful hunt, they also will get a mounted deer, elk, or hog or whatever we hunted on that trip and the meat to eat and enjoy.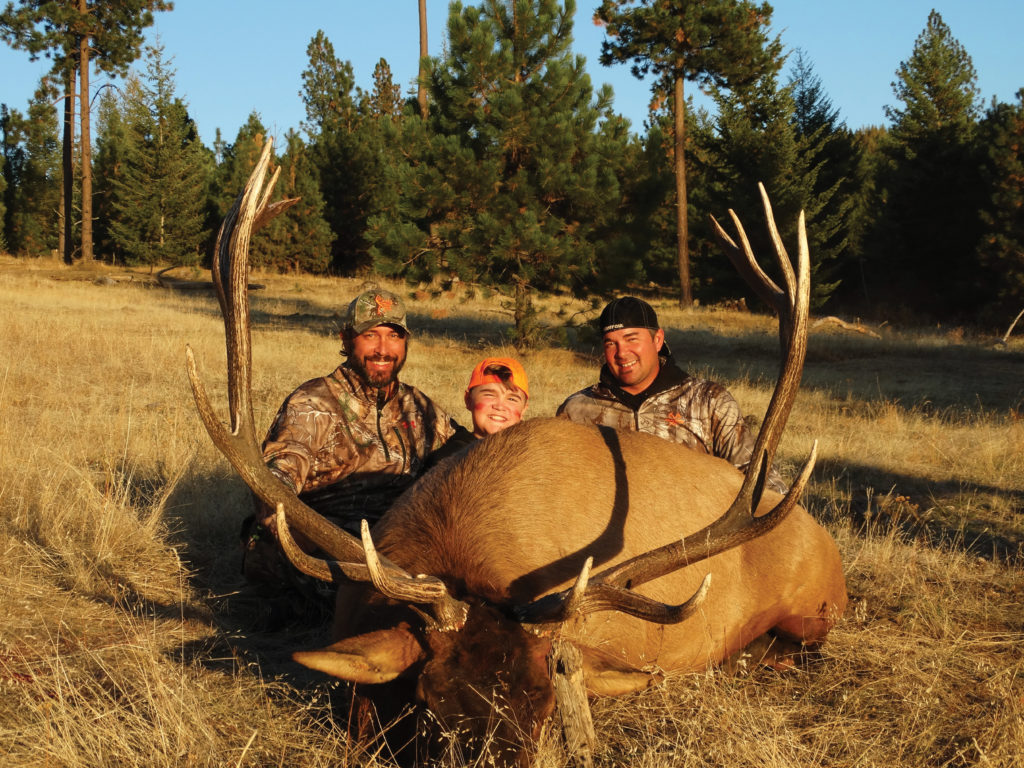 What type of wish do you hear most often? Or can you remember the most unusual wish?
Most of our requests are for whitetail deer hunts. There has been an increase in the number of elk hunts requests and that may be due to the exposure we have gotten with Steve's Outdoor Adventures and the special elk hunt we do with him. So far the most unusual wish is for a cape buffalo, which is an African species.
Do you specialize in hunts? Or can a child apply for other outdoor adventures?
We mostly specialize in hunts, but we can do fishing outdoor activities as well. We have had a few charter fishing trips out of Port St. Joe and Panama City Beach the past couple of summers.
What happens if there is a medical emergency during the hunt?
For most common accidents or injuries, should something happen, we would be relatively close to a hospital if needed. For kids that have serious issues, I rely on the parents' expertise in knowing what would need to be done while we get medical help. If there was a situation where it was needed in advance or required, we have medical personnel that are willing to volunteer. Safety is our utmost priority.  As a hunter safety instructor and a hunter for more than 30 years, everything we do in the field is with safety in mind.
How long does it take to plan the adventure and what special precautions do you need to take?
We start planning a year in advance for most trips. Some require special tags or permits that must be applied for nine months before the hunt. We typically know the general dates for a trip but wait for the outfitter or landowner to let us know when they would like us to come. All travel plans are complete a month before the trip.
Have you ever had a child not able to pull the trigger?
Yes, and we have a solution for this – a tool for shooting and pulling the trigger. For instance, if a child is too weak (or unable) to shoot the gun, we have what we call a "sip and puff." You act like you are taking a drink from a straw and when you inhale, it shoots the gun/pulls the trigger for the child. In that moment, you see a child experience something they never thought they could experience in their life.
Do your own children get to participate in the adventures?
My kids get to come to some of the local hunts to help and meet the Camodreamer and their family. As they have gotten older, I think they appreciate and understand more about what I do when I'm gone on a trip. My entire family is my biggest support staff. I could not have made Camo Dreams, Inc. what it is today without their love, support, and help.
You told me about a child that has been a Camodreamer from the beginning.
Yes, his name is Bradford. He has muscular dystrophy and has been through a lot from the time he started hunting with us. On days I get to see Bradford (or any Camodreamer) I know any stress or lack of sleep is well-worth it.
In a society that runs on caffeine and is driven to compete and constantly challenge others, we find ourselves adding pages to our "to-do" lists. People often ask Derek "How do you find the time?" or "How do you not get overwhelmed?" His answer; "It's simple, it's not about me; it's about them and being able to help them have fun in the outdoors.
Find more information about the organization at www.camodreamsinc.org
Leave a Reply
comments
Powered by Facebook Comments