BY VAL SCHOGER PHOTOS BY RICK COOPER
Neurosurgeon Joins the Brain and Spine Center
Board certified neurosurgeon, Dr. Heather Hedstrom, has joined Dr. Kamel Elzawahry's team at the Brain and Spine Center in Panama City. The team of specialists provides neurosurgical procedures such as surgical removal of brain tumors and complex brain tumors, spine surgery and spine instrumentation (implants that will provide stability after fractures or other instabilities such as degenerative arthritis) and a number of specialized neurological services for patients with epilepsy, pain, strokes, or other neurological problems.
Dr. Hedstrom brings extensive experience in pediatric and epileptic neurosurgery to the team. Both pediatric and epileptic surgery have not been provided in Bay and surrounding counties before. The ability to treat neurological conditions in young and infant patients is an addition to the pediatric care and pediatric intensive care units at Gulf Coast Regional Medical Center, the largest Pediatric Specialty Unit in our area.
After settling into her new office, Dr. Hedstrom has spent her first few weeks in Panama City introducing herself to fellow physicians. She confirms that she has a clear goal to provide services and procedures that have not been offered locally before. "I anticipate that my work will mainly consist of providing spinal or tumor surgery to adults, but I would like to help develop pediatric and epileptic neurosurgery at the Brain and Spine Center. Pediatric neurosurgery requires a different approach than adult neurosurgery. Board certified neurosurgeons are licensed to perform neurosurgery on people of all ages, but it is a lot harder if a child is involved. There is more time involved in learning how to deal with the family dynamics. Everyone is naturally more emotional. The surgery is very different. With small children we have to be very careful with blood loss, the instruments are different. A newborn cannot lose a lot of blood during surgery."
Dr. Hedstrom explains that in today's fast world, a "typical patient" does not exist. Kids get into all sorts of accidents and she has seen teenagers with disk herniation that you would expect to see in adults. She points out that treating tumors in children is much different than in adults. "There are certain types of tumors that rarely happen in children and other types of tumors that are rarely seen in adults. Depending on what the tumor is, it will be in a different part of the brain, it is a different pathology. Children are still growing and that is a concern you will not have with adults."
Gulf Coast Regional Medical Center's infrastructure is essential to her work. "The pediatric intensive care team takes care of the very sick pediatric patient and the nursing team and anesthesiologists routinely work with children. Gulf Coast Regional Medical Center also has a pediatric general surgeon."
Another cutting-edge procedure that has not been offered in Bay County is epilepsy neurosurgery. Dr. Hedstrom explains "Seizures and strokes are mostly medically treated but frequent seizures pose high risks. The patient loses complete control and that can inflict brain damage or they can even die during an episode. Surgery could completely eliminate seizures or at least reduce the amount of seizures in an epilepsy patient. It can save lives and it definitively increases the quality of life."  She explains that the most advanced procedures involve invasive monitoring where EEG electrodes are placed directly on the brain to form a subdural grid to identify the exact location of the area of the brain that causes the seizures. The electrodes remain for a few days and will be removed after the monitoring is done. If the monitoring shows that several areas of the brain cause the seizures, then removing one spot will not reduce the seizures or permanently eliminate them. If there is one particular area that causes the seizures but it is located in an area of the brain that controls movement or speech, then surgery is not recommended either. In conclusion, she says "The best possible outcome of the monitoring is when there is only one seizure focus that can be located and it can be taken out."
As she calmly explains complex neurological procedures in a way that the layman can understand them, she radiates patience and competence.  This neurosurgeon is also a mother of three children aged 14, 10 and 5. "The 8th grader was not excited about moving to a new city, but the two younger kids are happy, the weather is much better here," she says with a wide smile and concludes, "I am looking forward to meeting the needs of the county. That's why I have been brought to the team."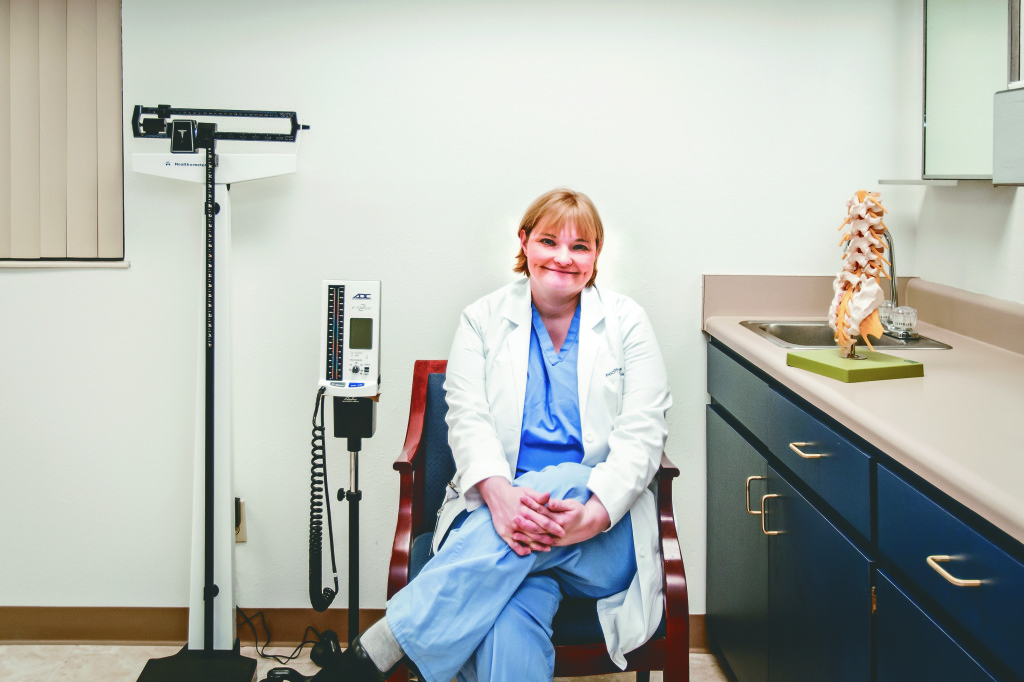 Heather Hedstrom, M.D., FAANS
Dr. Hedstrom, originally from Portage, Indiana, finished high school as valedictorian of her  class and was recipient of a National Merit Scholarship.
Numerous accolades and scholarships followed. She graduated from Washington University in St. Louis, Missouri, with a double major in biology and Spanish.
Dr. Hedstrom is fellowship-trained and certified by the American Board of Neurological Surgery. She completed her neurosurgery residency training at Indiana University School of Medicine in Indianapolis in 2002. This was followed by the completion of a neurosurgery residency at the University of Kentucky in 2008. She continued her career at the Neurosurgery Center in Lansing, Michigan, in a facility that is affiliated with the Medical School at Michigan State University (MSU) where she held an academic position as Clinical Assistant Professor of Surgery. Associate Clinical Professors of Medicine at MSU serve as the neurosurgeons to MSU Spartan Athletics.
Professional Organizations and Affiliations
Congress of Neurological Surgeons
American Association of Neurological Surgeons
Michigan Association of Neurological Surgeons
The Brain and Spine Center
2202 State Avenue, Suite 101
Panama City, FL 32405
Opening Hours
MONDAY – FRIDAY 8 a.m. – 5 p.m.
For more information call (850) 785-0029 ext. 421
or visit the website www.brainandspinecenterllc.com 
Leave a Reply
comments
Powered by Facebook Comments