By Nick May Photography by Robert J. Hill

Robert J Hill travels a lot. As a destination wedding photographer, he seems to spend more time in the air than he does on solid ground. He speaks in shortened airport code designations. PDX>SEA>BOS>KEF>MUN>KEF>NWK>BOS>YUL>YFC. It all ends up looking like lines of HTML code before long. I ask him what clock he's on. "I honestly don't even know anymore," he admits. With nearly forty thousand Instagram followers and a portfolio of weddings from every corner of the globe, the 26-year-old Panama City native is on the fast track to world-renown status. And he didn't get there by saying no to flying on holidays.
I recently caught up with Robert to discuss what one such New Year's Eve trip was like when he and his wife flew to LA for a very special wedding. One thing I learned is that delayed flights and heavy crowds aren't the only things affected by the holiday.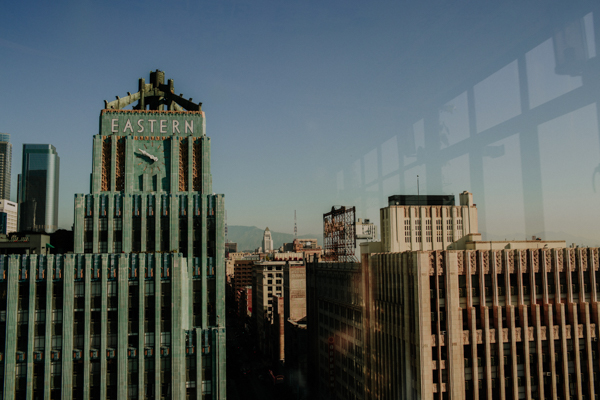 NM: What does your typical travel schedule look like?
RJH: I always try to arrive wherever I'm going at least 48 hours in advance. Unless I can drive there in a day. It's just a precaution I take in case something happens. Last December, we flew on the 30th for a wedding taking place on the 31st, so not ideal. We got in at 2  p.m. The rehearsal dinner was at 6 p.m. But the airline had lost our bags.
NM: So you've already hit your first New Year's Eve wrinkle.
RJH: Yes, but airlines have a budget for reimbursing customers whose items are lost in transit (if their reason for travel requires it). Delta paid for me and Emily to get the necessities we were missing from our lost luggage. Understand, we were shooting a very expensive wedding and attending a rehearsal dinner in Venice Beach, California in less than four hours. It's very important that we present ourselves as professionals.
NM: You mean you didn't want to shoot a wedding in your pajamas?
RJH: Exactly. And we only had so much time. Definitely not enough to be frugal and save money. So we went to Santa Monica and just bought everything we needed. I got a jacket. Emily got makeup. We each bought an entire outfit, including shoes. I think we ended up spending something like $1,500 in just under two hours. We literally wore our new clothes out of the store and went straight to the rehearsal dinner.
NM: Would you attribute the loss of your bags to it being New Year's Eve?
RJH: Probably. The bags were likely lost because of the high volume of travelers. And it was a nonstop flight, which usually have no issues with luggage. Now that I think of it, it must have been a problem related to New Year's Eve. We definitely learned from that situation – leaving no time for wiggle room. We did get to the dinner on time.
NM: What happened next?
RJH: Well, the next day, I took a Lyft to the groom's hotel. I remember the cost of the car being about $20 more than usual, because services like Lyft and Uber will often add a holiday multiplier to their fares. Our driver actually said he makes the same on New Year's Eve as he does during an entire week of normal driving.
NM: What other factors came into play?
RJH: It was interesting. Due to the fact that it was a New Year's Eve wedding, it took place later than usual. There was a balloon drop planned for midnight. A champagne toast. The whole deal. It wasn't even slated to end until 2 a.m.
NM: Did that affect your ability to work at all?
RJH: It was the first and only wedding we've ever shot in the dark (at night), so we were extremely limited. As limited as you can be. We were forced to use the decorative candlelight. We used flash the entire time, and in unconventional ways. We pretty much had to change our whole mindset at the last second. It's something we've since learned to communicate better to customers – the fact that we need adequate lighting.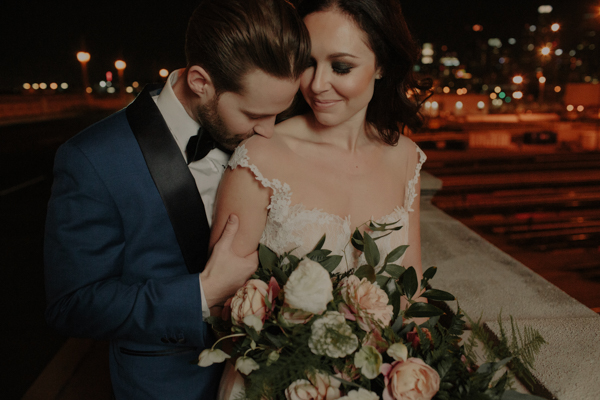 NM: Did anything good come out of your circumstances?
RJH: Well, I didn't get the kiss shot I wanted, but there was one shot that was a pretty big hit on Instagram. The wedding took place in Downtown L.A. at a place called Millwick, near the 4th Street bridge. I tried something, on a whim, and bounced my flash off one of the bridge columns. The result was pretty awesome. It was one of our most popular photos ever, and I doubt it would have happened had it not been New Year's Eve.
About Robert J Hill
Robert J. Hill lives according to the belief that "Relationships change everything." He is a world-renown destination wedding photographer with a portfolio of completed wedding photography in every corner of the globe. Robert and his wife, Emily, are transplants from Panama City, Florida, where Robert first started his business. He is now based in Portland, Oregon and the majority of his work takes place in the Pacific Northwest. See more of Robert's work on Instagram (@robertjhillphotography) or view the full blog of this wedding online at www.robertjhill.com.