PHOTOS BY HOLLY GARDNER PHOTOGRAPHY
 Courtney Clubbs and Caleb Stewart believe that God steers their paths in life. "When we met, we were certain that we were made for another; the Lord was ready for us to meet," they say.
A couple of years ago,  during  Courtney's last semester at Florida State University, she did not give dating much thought.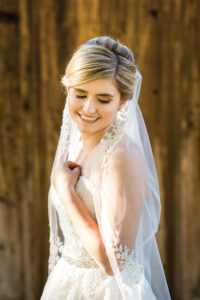 She was a dedicated student. But her family started teasing her a bit. Her father, Greg Clubbs, pilot and co-owner of a highly successful helicopter repair and service company in Panama City, was quick to quip. Courtney's retort, whether he was working with any pilots she should know about, put him on the spot. To her surprise, he answered that there was a "promising young man," a new pilot, he had only good things to say about. The young man's name was Caleb and Courtney decided to take it upon herself to get to know him. They went on their first date and could not wait to see each other again. They were soon completely dedicated to each other.
After a year, they planned a trip to Nashville the week after Christmas. If anyone knows Courtney, they know her love and passion for country music. She eagerly sings and plays guitar every chance she gets. Her Christmas present was not only a trip to Nashville but also dinner at the Bluebird Cafe, a famous restaurant in Nashville where many country artists and songwriters begin their career. She was in for a surprise! Just when she thought her trip could not get any better, while listening to a performance by  Cole Taylor, the singer interrupted his performance and called Courtney and Caleb on stage. Caleb went down to on one knee and proposed. Of course,  Courtney said yes!  It was truly a dream come true. Caleb took a lot of time planning and organizing the entire evening and Courtney could not have been happier.
Courtney says that Caleb is a sweet, but quiet "man's man." He has a very loyal spirit and is always joking about something. "Once Caleb is comfortable with someone, he can talk more than most people," she says. Courtney is very outgoing and never meets a  stranger.  She is very honest and is very passionate about music and her job as a marketing specialist. Caleb is currently an agriculture helicopter pilot and travels during the agriculture season to spray plants and forestry to prepare them for harvesting.
They knew a farm wedding was just what they wanted and the stars aligned. Courtney and Caleb were married at Bense Farms. On their wedding day, the emotions were high and the love was evident.
The wedding was very special and unique as the bride and groom carried on a family tradition. When Courtney's parents, Denise and Greg Clubbs were married, he flew his future wife from their wedding venue to their reception. During Courtney and Caleb's ceremony, her father flew Courtney to the ceremony and her new husband Caleb flew away with her after the ceremony. Who else can say that they continued the family tradition of "flying off in a helicopter" after their wedding ceremony just like their parents?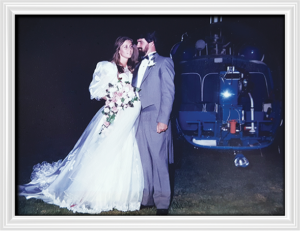 Photo in frame (right) shows Courtney's parents, Greg and Denise Clubbs. They took off in a helicopter on their wedding day and started a family tradition.
"The helicopter ride was not only a symbol to us that we are carrying on a tradition as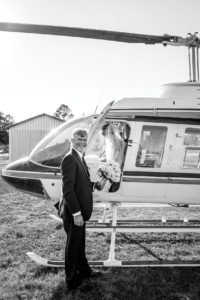 a family of pilots, but also that I have been given away (spiritually) by my dad to my husband. Not only was this a very special wedding day for us, it was also the first time I flew with my husband. You could say, he swept me off my feet," says Courtney.
Now that the two are married and working on their "happily ever after" they both explain how special their marriage is because they have based their marriage and future on God. "Both of us believe that, without God, there is no marriage," they say. "To have a successful marriage, you have to rely on God's grace and help. We both grew up in Christian households and we were very blessed to have such great role models. Our parents are still together and they have shown us healthy ways to grow together as a couple. They have taught us to communicate and to have open honest discussions without anger. This has shown us that relationships really do rely on communication and compromising. We are so blessed to have each of our parents!"
Their life really hasn't changed much since saying "I do." "We are continually learning from one another," Courtney says with a smile. They always make a point to keep the line of communication open. In fact, they advise other engaged or newly married couples that communication is the most important thing in a relationship.
Now that they are back from their honeymoon and focusing on one another and their future, they express that they are ready for whatever God decides for them and are relying on God's will and guidance for their life and future.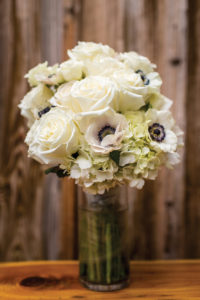 The bride and groom extend a warm and big "thank you" to their families and friends and know that they could not have done it without their help. "Each individual has touched our lives in a very special way and we are blessed by you!" They explained that a lot of this wedding was "do-it-yourself" and they must thank Courtney's dad, Greg, and her brother, Christopher, for handcrafting all the decorations for the wedding! Courtney also says with a smile she wouldn't have been able to keep her sanity if it weren't for her mom. "From making all the out-of-town guests feel welcome, to having every decoration there and ready for the wedding director to use, she was simply amazing," Courtney says. They also extend a huge "thank you" to Caleb's parents for the amazing rehearsal dinner and all the help with the setup. The couple especially would like to thank Tonie and Allan Bense and Judy Bense for allowing them to use their beautiful property for the wedding ceremony and festivities. Courtney and Caleb are so thankful for Pat Walters and Marty Adams for all the help they gave as the Hay Farm managers.
Caleb and Courtney have a promising future as a couple with the Lord on their side and they cannot wait!
Leave a Reply
comments
Powered by Facebook Comments