By Nick May, Photography by Michael Booini
Shawn Ramsey is a high school science teacher. More  specifically, he is a high school science teacher who  loves to surf. Over the years, he has combined his passion for the sport with his knowledge of the elements to create a product that blows others out of the water, Coastal Republic Surf Wax. It is the culmination of a 15-year journey that began with an experiment and resulted in the creation of an eco-friendly product with an all-natural base. Something handmade. In short, a wax that makes bumps on the board. But, to fully understand the significance of such a feat, you  must first understand the man who made it…
Who uses your product and why?
Skimboarders, paddleboarders, and traditional surfers, mostly.
What are the properties of a good surf wax?
If you can make it sticky, for grip and tackiness, but also with the ability to create bumps. And it is very tricky to get that to happen.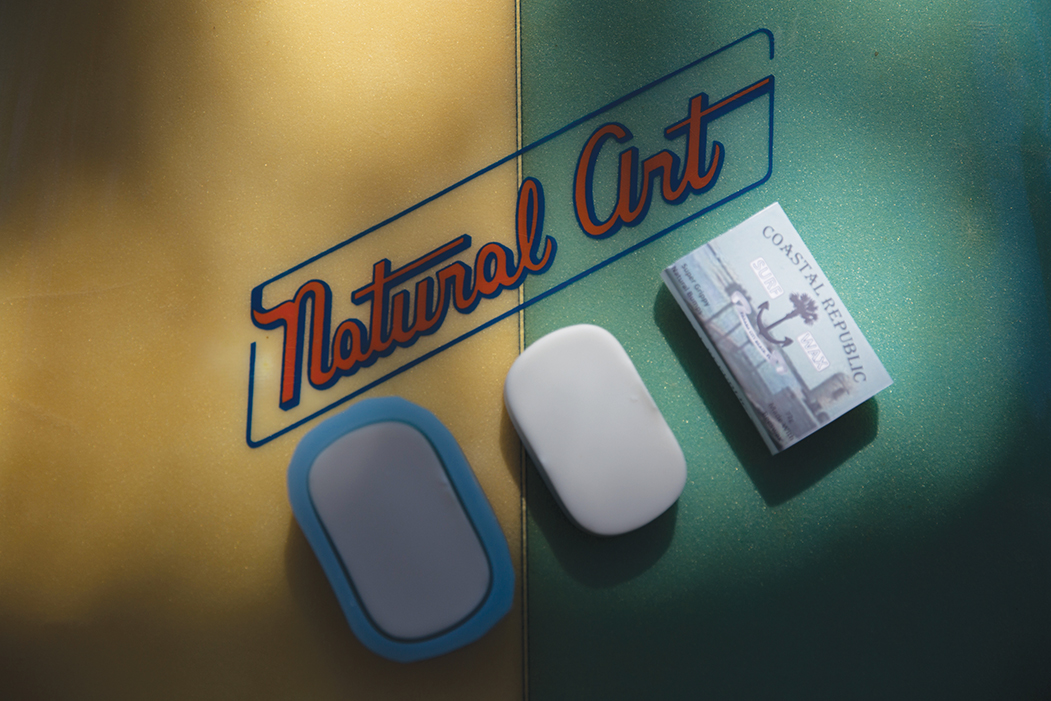 What makes your product different from others like it?
It's usable in this climate. It is consistent from batch to batch and reliable. Ultimately, it gets you those bumps, and yet, it's sticky.
How do you make your wax?
Well, it's mostly a secret, but instead of petroleum-based wax, we use all-natural beeswax as the majority component, along with other eco-conscious ingredients. Also, most companies have a com-pletely mechanized process, where they squirt out large batches with lots of inconsistencies. We make ours five bars at a time. They're handmade, hand-poured. Half a bar from each batch is tested for quality control and to make sure we have the right melting point.
Where do you do the pouring?
We have a house in West Bay with a bottom floor room that opens into an outside deck area where we make our products.
How long does it take to make a batch of the wax?
We can do about 15 an hour, hand-poured.
How is it distributed?
We do it ourselves. In March we were in St. Augustine and Jacksonville.
Would you say your science background has aided in finding the right kind of wax for our climate?
Yeah, I'd say my interest in surfing, coupled with teaching and studying science  helped with the process. I believe it all makes for a better product. Tons of companies have attempted it, but their wax just doesn't perform as well.
Do you have any plans for mass production?
Mostly student labor with sweatshop conditions [laughs]. No, we'll keep it handcrafted, but with bigger pourers. No machines.
What would you say to someone who already has a favorite wax?
The beeswax base is good for people who react negatively to petroleum. Also, being a Florida-based company, with Florida products, you're buying locally. Our wax is formulated for our water and air temperature. Our temperature can melt other waxes. Harder waxes may retain the bump, but they won't stick. You can use our product into late October before temperatures really start to change.
How much time do you dedicate to the product?
Basically, if I'm not teaching, it's surf wax.
What's next for Coastal Republic?
Improving our cold-water wax. We'd also like to go to the East Coast with our shirts and stickers and the brand. Eventually, we want to be in places like Jacksonville, St. Augustine, West Palm Beach, Miami and New Smyrna, which is sort of the surfing capital of the East Coast. We hope to completely cover Florida in 2017.
Shawn's tip for applying surf wax to your board:
Start by applying a good base coat. If you're using Coastal, you can put it straight on without using a base coat. First make horizontal and vertical sweeps with the bar. Then make diagonal sweeps. Afterward, create circular patterns with the wax. Some choose to use a comb at this point, but Coastal will bump up without it, as the wax adheres to the board and then to itself.
Coastal Republic Surf Wax can be found at Mr. Surf's Surf Shop and Sunjammers Watersports in Panama City Beach, Ono Surf Shop in Seaside, YOLO Board in Santa Rosa Beach and Miramar, Fluid Surf Shop in Fort Walton Beach, Daly's Dock and Dive Center in Port St. Joe and online through sunjammers.com. You can also find them on Instagram and Facebook @CoastalRepublic. Bars range in cost from $2.50 to $3.00 each.
Leave a Reply
comments
Powered by Facebook Comments