By Val Schoger, Photography by Kathleen Horton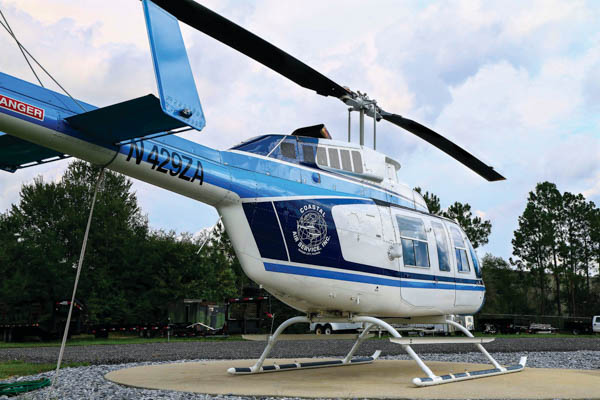 "A lot of this industry is knowing the industry," says Greg Clubbs, co-owner of Panama City-based Coastal Helicopters, an established business in the international helicopter repair and trade industry.
Founded in 1977 by retired U.S. Navy veteran Paul Selby Sr. and U.S. Army veteran Ray W. Wagner, the business started as Bay Helicopters and has grown and changed substantially throughout the years. "The civil market of helicopters is only about 55 to 60 years old and we've been here 40 years of them," says Greg Clubbs who started as an apprentice and is now the president of the company. Paul Selby, Sr., Greg Clubbs, and Carlos Atkinson renamed the business "Coastal Helicopters" in 1983 after buying Ray W. Wagner's shares. "Our first work was overhauling a couple of small agricultural helicopters; Bell 47s, the first civilian-certificated helicopter and also the Hiller-UH12s. In those days one of the biggest uses of the Bell 47 helicopter was in agriculture," remembers Greg Clubbs.
With one of the biggest markets for civilian helicopter activity in their back yard, Coastal Helicopters has had steady work. "There are more helicopters and more flight hours in the Gulf of Mexico between Louisiana, Texas, Alabama, and Florida than anywhere else in the world. Of course a lot of other countries and other markets are emerging but in the past 25 to 30 years that's been the biggest market for helicopter activity," says Greg Clubbs.
The business has adapted to ever-changing markets and only a small percentage of the business is local. A team of pilots, mechanics and support staff offers passenger transporting services, operation of agricultural helicopters, and salvage, repair, repurposing, and sale of helicopters worldwide.
As an FAA certified repair station, Coastal Helicopters is qualified to make aircraft modifications and major repairs. A 25,000 square foot parts warehouse and a machine shop are operated as separate businesses. The construction of custom heavy duty trucks and trailers for the transport of helicopters is also on the long list of abilities.
The company works for civil and government entities in the U.S. and internationally. "We started out providing modifications and integrations of special mission equipment and we still do a lot of that. Someone will come to us with a new gadget they want to fly on a helicopter and we figure out how to mount it, the engineering and design. It can get very complex. We have gotten critical STCs (Supplemental Type Certificates) approved in as little as 30 days. It's a very tedious process and every 'i' needs to be dotted and every 't' crossed."
Completed assignments are as rewarding as they are unpredictable and unusual events are often followed by increased demand for Coastal Helicopter's services says Gregg Clubbs. "I have had weather reporters chase me down in restaurants, looking for helicopter flight support after severe weather events. After Hurricane Katrina and Rita, we transported water to the hospitals and we have been flying tree and grass seeds over areas that were burned down by wildfires. We can set air conditioners on top of high-rises and get the job done in a matter of hours. The next best alternative is to bring a crane in – the setup would take days and could cost six figures."
There is not much the team can't do and do very well judging from the list of longtime business partners and customers. "Several of our customers have been with us for 30 years, others we have had for 25 or 20 years," says Gregg Clubbs. "We value the good relationships. If you have good customers and if you take care of them, you'll always have plenty to do."
Buying, repairing, and selling helicopters internationally takes a special skill set and financial commitment. No job is ever the same. Greg Clubbs knows that there is always a risk factor. "We bought a fleet of five helicopters in the Philippines once and they were supposed to have flat racks, big shipping racks that the helicopters will be tied down on so that they can be set on a ship for transport. Well, the sellers failed to tell me before closing the deal that it would be six months before flat racks would be available in the country. In my experience, once you buy something in a third world country, you better get it out of there or it will walk out one bolt at a time. What was supposed to be a two or three-day job of 'go package them up and send them home' turned into a month of completely disassembling the aircraft, turning them on their side and sliding them in containers. The highest number we bought at one time were 36 aircraft. We've been to Japan, Australia, Central and South America, Europe, North Africa, Canada. We've been all over."
In one instance a 747-400 freighter airplane had to be chartered to transport a small fleet of helicopters from South America. Greg also vividly recalls a phone call from the Department of State during Bill Clinton's presidency and the successful brokering of several twin engine helicopters that were used in anti-drug efforts in Colombia and Peru.  In another instance, a fleet of Bell 214ST helicopters, very large helicopters that can carry up to 21 passengers, were sold from Venezuela to a company in Canada that is using them to transport fuel from the lower regions of Canada north to the polar regions.
When Paul Selby, Sr. retired in 1997, Paul Selby Jr. joined the team and the business continued on its steady growth path.
Recently, Carlos Atkinson retired but continues to work for the company on a part-time basis.
Greg Clubbs points out that if not for Paul Selby, Sr., he would not be where he is today. His success story began with a good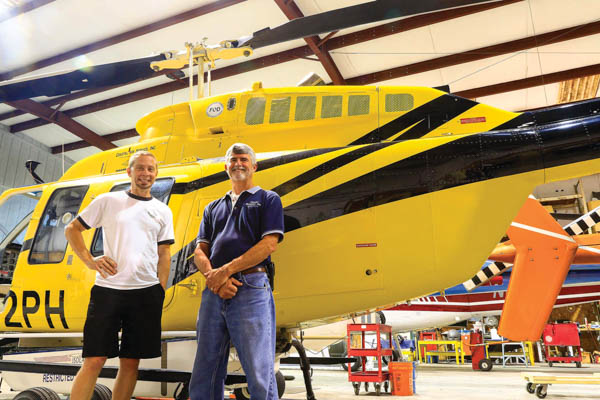 mentor who understood his talents and gave him the chance to prove and grow his skills. "Paul was very knowledgeable and I was lucky to have him as a mentor. I was not particularly academic. Instead, I liked working on engines and was lucky enough to have Paul Selby teach me the aviation skills."
He recognizes that there are many kids who need an opportunity to advance and learn a trade that they are passionate about. "That's why I think the programs offered at Haney Technical School are so valuable. There are a lot of people who don't fit the mold of academia. They are pushed aside in life when they might be brilliant in a hands-on talent." Gregg Clubbs is a member of the advisory committee for the aviation program at Haney and Coastal Helicopters has donated equipment, engines, and tooling throughout the years. The aviation mechanics class tours Coastal Helicopters once or twice a year. "We walk them through the shop so they can see how the shop works and demonstrate non-destructive testing which is a part of their aviation mechanics curriculum. We do not currently have interns from Haney because we have hired them. So now they're working for us full time."
With Paul Selby, Jr. joining the business as a second generation owner, does Greg foresee that his kids plan to join the business in the future? "My advice to my son and daughter was to get an education and learn how to do something else and if they decide they want to be a part of Coastal Helicopters, then we'll talk. So right now they're figuring out that 'something else.'"