By Val Schoger, Photography by Michael Booini
He stands in front of his latest work in progress, an oversized human skull, painted on wood, seemingly floating, surrounded by pink roses that offer a stark contrast to grey bones. The subject stares at the artist, grinning. Christon nods, "This skull piece is the second work in a signature series with the title "Anatomy A Thug." The first sold in Atlanta last year." He is in the process of adding a golden patina to the teeth, he explains.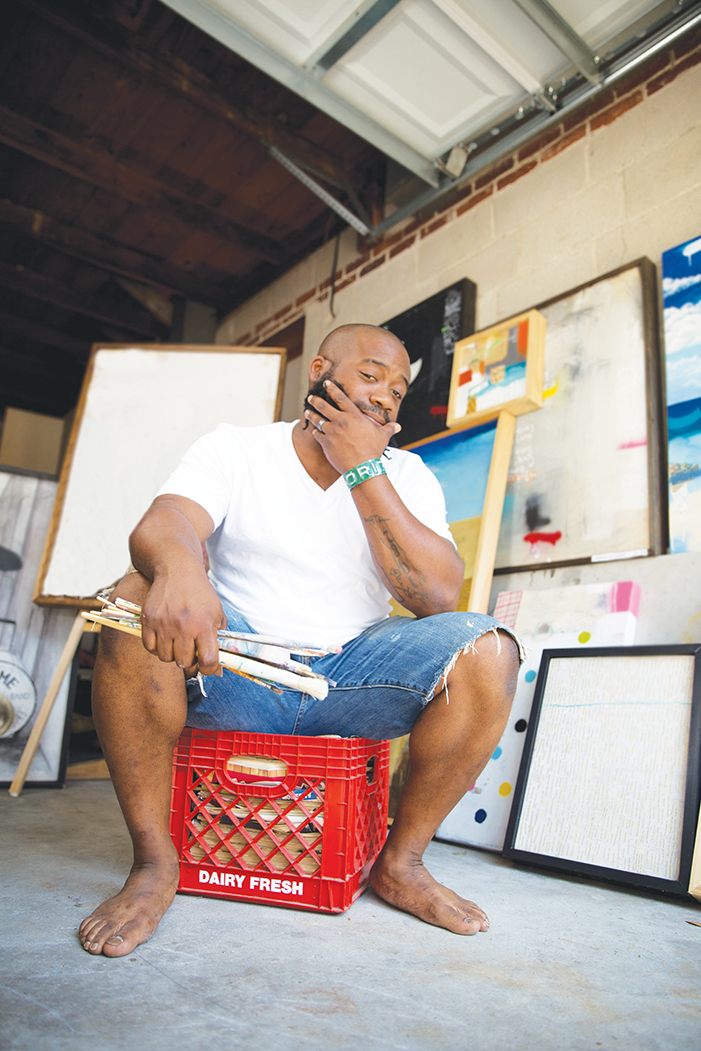 Christon Dee Anderson was born and raised in Panama City. He has lived here his entire life. As an elementary student, he was well aware that his art wanted to come out, yet it was temporarily put on hold by  baseball and football successes with statewide recognition in his teen years. Art's call persisted and Christon studied drawing with Roland Hockett and photography with the late Johnnie Ihlefeld.
When his house in the Cove neighborhood becomes quiet at night, while his two adorable kids and wife, Kristina, are heading for bed, Christon's creativity goes into overdrive. This is when he paints, when he lets brush strokes, lettering, and spray paint come together with reclaimed wood, cardboard, vintage documents, iconic images, emblems, patterns, and other media. Occasionally he appears lost in thought. This is when he tugs at his beard, absentmindedly twisting it into dreadlocks. This is his thinking pose, his trademark look.
A genuine smile rarely leaves his face, sometimes a laugh escapes. Surrounded by artwork that is propped against the walls of the garage/studio, he is completely in his element and answers inquisitive questions entirely without pretense.
Congratulations on being the headlining artist at the 2017 ArtsQuest in Sandestin. I have not seen your name at recent Panama City arts venues. Are you still presenting here? 
I'm not out very much. I am looking to exhibit in the Center for the Arts in Downtown Panama City in the near future. A multi-day exhibit means a lot of preparation. I want to be known as a Panama City artist and I will have to focus on presenting where I get the best response.
What inspires your art? 
I just create whatever interests me. It is reminiscent of the styles that I like. I'm a big fan of hard abstract work. I'm a big fan of realism. I'm a big fan of vintage, a life before our life. I am blending these. I acquire a lot of vintage stuff that I implement. Whether it's paper or tools, wood or fabrics, sourced all over. Yard sales. Or I visit with artist Matty Jankowsi from time to time. He has a shipping crate full of vintage items. I like to bridge a gap, there needs to be a connection with the audience and my art.
When did you start as an artist? 
I came up drawing on the kitchen table with pencil and paper. I started studying it while also making a living. I entered my first piece in an art contest at the Visual Arts Center (now Center for the Arts).  I didn't get recognition for it but was proud to just be there. That was in 2005. The next year, I entered two pieces and got an honorable mention for one of the pieces. That's when I met the owners of Gallery Above. I had several exhibits there. People responded. They were digging my art. Unfortunately, the gallery closed in 2009.
You mentioned the title of your current piece, "Anatomy A Thug." Do you title all your artwork? 
(Chuckles) I do, I do.
What was your train of thought for "Anatomy A Thug"?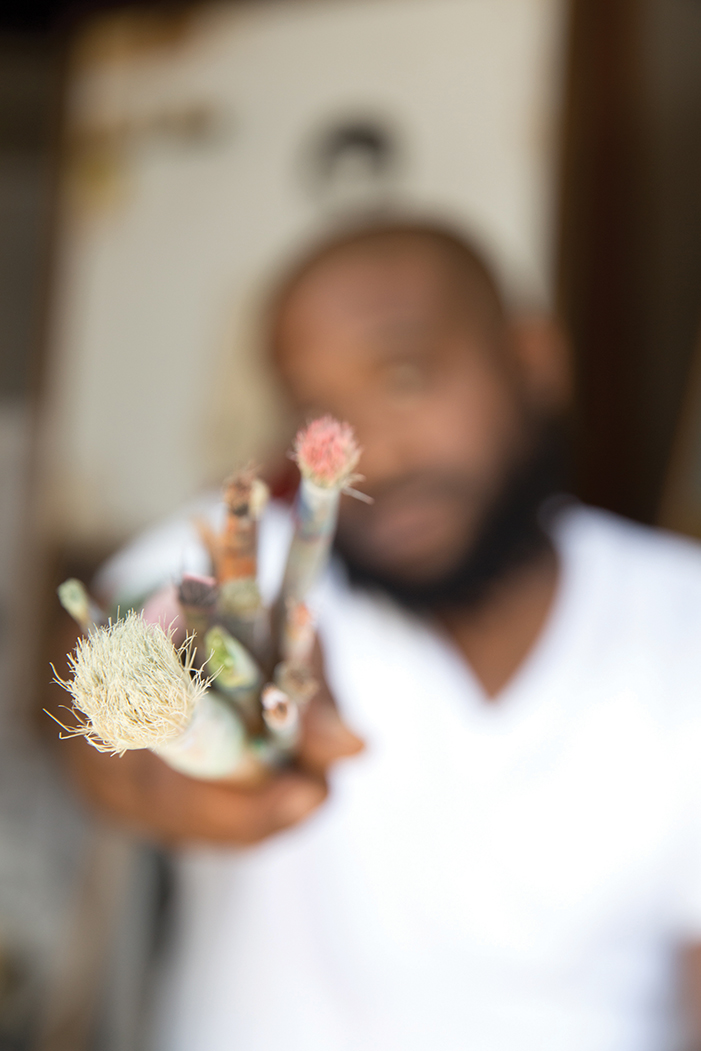 I was gonna call it "Bury Me A Thug," but I wanted it to be more accessible. "Anatomy A Thug" relates to more people in that sense. I will make it a signature piece and will continue to change it and produce different versions.
Describe or categorize the piece that you titled "Timeless."
I can't categorize it, it just flowed. I combined old documents from 1970, 1919, 1949, 1971. Most of the documents have local historical references. (pointing) This one is an Army certificate from 1960. I enjoy finding and working with items that have historical significance and mean something different to different audiences. You'll have a person come up who grew up in the 60s relate specifically to something they see in the artwork. Not vaguely. Specifically. Something that reminded them of their childhood. People get involved. It's vintage and it's abstract. I called this piece "Timeless," because it means something different to different audiences.
How do you strike a balance between your day job and your creative work as an artist? 
The art is very important to me, but so is my family. It is imperative that I support my family as a father and husband, so I have to sideline the art sometimes, or cut into my sleep to make it work. I am making the choice to pursue this dream. I satisfy that urge to get it out. But I am not satisfied with just getting it out. It's for the people I show it to.
I think some artists would be scared to say that they're painting for the audience – it might sound less like their vocation. 
Sure. There's a bit of that. But when you create art, you know it's coming from you. Why would it go back to just you? It's not for that. It's for an audience… when someone responds to your art and finds a connection.
Isn't that the best an artist can hope for?
Right. That connection. That random connection. You are doing something that's speaking to you, as an artist, for it to connect directly to somebody, you can't ask for anything better than that. Last year during an art show, one of my pieces, "Big Sister," made one of the visitors cry. One women could not take her eyes off the painting. She stood very close to it. She just started crying. I was like, YES! I didn't want her to cry but at the same time I knew she felt the connection. She went on to tell me that she had been to Africa and helped kids, so the painting took her right back there.
Would you consider yourself good with audiences? 
No. I don't do good in front of any kind of audience. I don't do the stage. I'm usually comfortable in the darkness and in the background of my work. I just want to provoke, you know?
Provoke thought?
Provoke everything. Thought, conversation, research, emotions. Even if it's negative. I can't predict how someone is going to feel about a particular piece, I just want them to feel something. They may not like it or they may like it, but they will not feel like I did. I'm willing to take that risk.
Find out more about the artist on social media @christonanderson and christonanderson.com
Leave a Reply
comments
Powered by Facebook Comments