Photos by 

Catherine Taylor, Woodland Fields Photography
In a sanctuary filled with the sweet scent of tea roses, peonies and hydrangeas, Ruthie Darby walked down the aisle on her grandfather's arm as if she were strolling through an English garden. Waiting for her at the end of the path was her groom, Chad Bruce.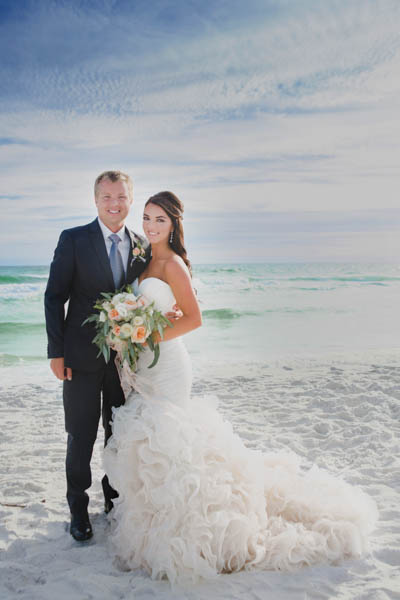 Flowers were the most important decoration for Ruthie, who grew up in England's countryside surrounded by their beauty. The bride also spent time traveling around the Bahamian Islands on her grandparents' private yacht, navigated by a captain from Panama City. Through the captain's stories about Panama City Beach, Michael and Joan Darby were attracted to the area. They decided to retire here and Ruthie lived with them and Panama City became her second home.
Ruthie and Chad met at a mutual friend's birthday party in June of 2010. They hit it off and wanted to get know each other better. Ruthie, however, was just about to head to her childhood home in Lincolnshire, England for the summer. It was a tradition she shares with her grandparents. But Chad and Ruthie communicated online while she was away and became wonderful friends.
When Ruthie returned, Chad asked her out to dinner and a movie. He learned that she is a very talented artist and that she loves bike riding and the outdoors. Chad enjoys being hands-on and active with various hobbies and projects, as well as exploring different red wines, and going to concerts. They both love boating and traveling.
By sharing and appreciating each other's interests, they developed a strong bond. After about three months of dating, the couple became inseparable. Neither has the desire to do anything without the other. "We're one soul. The reason we married is that we both want to live the same life and be able to do things together," Chad says.
Chad loves how kind, adventurous, and creative Ruthie is, and she loves Chad's thoughtfulness, humor, and the fact he enjoys cooking. "It's a good thing when you find a guy who always makes you smile and loves to cook," she laughs.
When they had been dating about three years, Chad started thinking seriously about asking Ruthie to be his wife. It was the next natural step in their already strong relationship. Ruthie secretly was hoping for a proposal.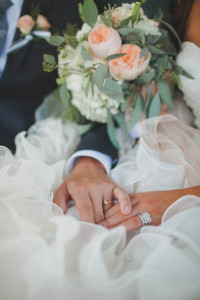 He planned his proposal for months and, when he shared his plans with Ruthie's grandmother, Joan Darby, a diamond from Joan's a beautiful family heirloom necklace became the centerpiece for their engagement ring. "Ruthie is a very stylish person, so for me to take on the designing of the ring, something she'd wear every day for the rest of her life, was a big risk," Chad says. He knew Ruthie always wanted to choose her own engagement ring.
Ruthie grew up in a house in Redbourne, a quaint country village in Lincolnshire, England, with an old church that dates back to the 1400s next door and a sheep's pasture behind it. Separating the field from the churchyard is a gate that only people can pass through leaving the sheep safely in the pasture. This type of gate is nicknamed the "kissing gate" because it barely touches either side as it opens and closes. Ruthie says it's a tradition that when two people pass through the gate, they give each other a kiss.
It was the spot where Chad wanted to propose. His opportunity came when the Darbys sold their house in Lincolnshire. They all went back to spend one last holiday in the home in which Ruthie grew up.
The weather posed a challenge for Chad to find the right moment to pop the question, but when he finally saw a little sunshine, he asked Ruthie to go for a walk. "Normally, she's pushing me out the door, but this one day all she wanted to do was relax," he remembers. But, to his relief, she finally agreed and they headed to the kissing gate. As they passed through, Ruthie closed her eyes waiting for her kiss. After a few seconds, she wondered why Chad wasn't kissing her. She opened her eyes and found Chad down on one knee with a gorgeous ring in his hands. "I was very stunned. He plays a lot of jokes so it caught me very much off guard. Even though I was hoping for it at some point, I thought he was fooling around," she says.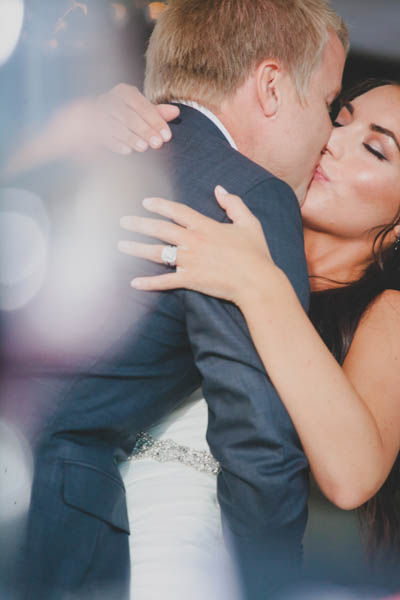 "I was very stunned. He plays a lot of jokes so it caught me very much off guard. Even though I was hoping for it at some point, I thought he was fooling around."
When she realized Chad was very serious, she was overjoyed and excited.
She was, however, wondering about the ring. She thought it might just be the proposal ring, and they would go pick out the ring together. Then she recognized the diamond in the center was her grandmother's. "It has great meaning," Ruthie marvels. "And I love Chad's thought process of designing it especially for me."
Their wedding was a great celebration with design touches reminiscent of England throughout. The tables at the reception were named for different English cities including Redbourne, Oxford,
and Liverpool.
Chad and Ruthie say what makes their marriage work is good communication and never taking for granted the time they get to spend together.   They try to always focus on the things that are important in life.
Ruthie works as an interior designer and Chad is a real estate professional. They built their first home together in Panama City Beach. Chad's biggest goal for his future is to be a great husband to Ruthie.
"Being able to marry Ruthie is my life's biggest accomplishment," Chad says. "As long as we're together, nothing else matters."
Leave a Reply
comments
Powered by Facebook Comments