By Silvia Rueda, Photography by 

Adam Short of Æ Ambient Exposure Photography
During practice on a stormy Saturday afternoon, tails are wagging and excitement is in the air. The Beach Rovers, who are preparing for a big tournament, often become distracted as they run off the track to bark at passing cars or mingle with teammates. Come next week, however, this all changes.
The sport is called Flyball. The team consists of 17 dogs and their owners on the sidelines. If you were to describe the sport in a few words, then "extreme fetching" would come to mind. The dogs zoom past each other on a 51-foot course and jump over hurdles with one objective: to get  to the spring-loaded Flyball Box at the end of the track that ejects the ball and relay the ball back as fast as possible.
The team that finishes racing all their dogs wins, explains Donna Fowler, who founded Panama City's one and only Flyball club, the Beach Rovers.
Donna became involved with Flyball more than 10 years ago when she brought her dog, Roxie, home from the animal shelter.  The Labrador retriever had unstoppable energy. Donna couldn't keep her new four-legged companion busy enough. "Roxie flunked every obedience class we registered her in," Donna says.
She lived in Birmingham at the time, heard about Flyball, and decided to take Roxie to a practice. "Roxie took to it almost immediately," she remembers.Donna and husband, Chuck Thiele, brought Flyball to Panama City when they relocated from Birmingham in 2006. Initially, they went back and forth to Alabama so they could continue practicing, but it got too tiresome. "We said, okay, we can't travel so far forever. Let's start our own team. And that's what we did!" The club operates under the North American Flyball Association and is open to any breed and age.
Roxie has since retired from the sport but Donna now has four other dogs that participate in Flyball, Breeze, Snap, Shug, and Bear. Bear is currently in training. Her dachshund, Toby, doesn't race but is an excellent cheerleader. She remarks, "Some dogs find the game more interesting than others and physically some breeds are not well suited, like the dachshund."
There are 17 dogs on the club's roster, but members often come and go as they relocate or the dogs retire.
Debbie Jelks got involved with the Beach Rovers five years ago when looking for a solution to manage her overly rambunctious dogs, Doberman, Gatlin, and mixed-breed, Ava. "The two were very ill-behaved and needed a lot of work." She remembers the dogs' behavior significantly improving, especially when it came to other dogs. "We started thinking we were just going to do a little training and then we fell in love with the sport," Debbie says. Five years later, Gatlin and Ava have retired and Debbie now trains with her Labrador mix, Esther, and mixed-breed Tippy.
For dogs with a little extra bounce, training for Flyball often helps with behavior and hyperactivity problems, but it doesn't come easy. "You have to be very dedicated and you have to be able to work with your dog," club captain Donna says. The relationship between dog and owner is extremely important, and sometimes the dog is trained before the handler. "The lessons are joint with the dog and handler; we won't train a dog unless the handler is there and going to be an active part of the dog's learning." Participating also requires a relatively flexible schedule since there is travel required for tournaments.
When the day of a tournament arrives, the dogs' antics at practice are long forgotten and they know it's competition time. "They know what they're doing. It's not just about getting the ball and coming back. It's about getting the ball, coming back, and beating the dog next to them," Debbie explains.
Races start as early as 8:00 a.m. and the day is long. In total, the club may participate in 100 runs in one day. When they race, dogs go over four jumps. The height of the hurdles is determined by the size of the smallest dog on the team. "Most teams try to keep at least one small dog on the team but that's not always possible," Debbie states.
The use of fun and quirky names is typical in Flyball and the Beach Rovers are no different and follow a beach theme. 'Girls Gone Wild' is an open team that originally was made up entirely of female dogs. The regular team 'Red Rovers' began with dogs that all had brown or "red" fur. The 'Spring Breakers,' also a regular team, got its name from the popularity of the beach as a vacation destination. As dogs have been shuffled amongst the teams, the meanings behind the names 'Girls Gone Wild' and 'Red Rovers' have become less important. You might catch a male dog sprinting down the lane for the 'Girls' or a flash of black fur soaring over a hurdle during a 'Red' race.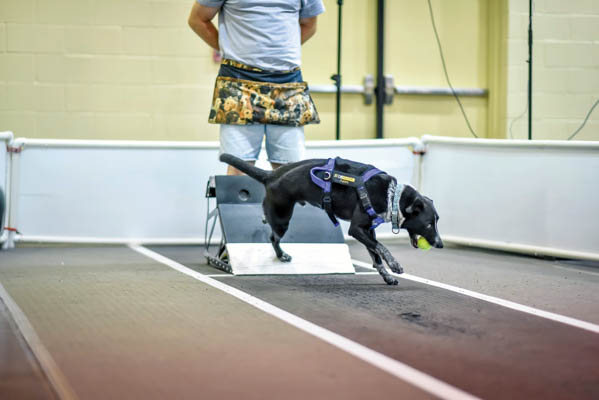 Despite the frequent training, the dogs are still bound to make mistakes or just don't feel like racing altogether. "I remember a German shorthaired pointer that saw a bird and jumped over the gate and went after the bird," Donna says. Another time, a dog caught the ball and then decided he wanted to sit down in the middle of the track.
"You definitely need a sense of humor with this," Donna laughs. "Our team is not the fastest team by any means but I think we enjoy Flyball and each other more than many, many other teams in the region." The club's logo, a dog wearing a beach shirt jumping over a hurdle with a margarita glass, says it all.
Throughout their careers, Flyball competitors earn points based on their speed that lead to different levels of distinction. Every time a team runs faster than 23 seconds, each dog on that team earns 25 points. For running  faster than 28 seconds they receive 5 and for running  faster than 32 seconds they receive 1.
At the club's latest tournament on June 4 and 5 in Clanton, Alabama, two Beach Rovers rose to new honors. Mixed-breed Sadie, owned by Donna Waddell, reached 20,000 points, which earned her an "Onyx" designation. Amber, another mixed-breed on the team owned by Nancy Roesi, received her FDCh (Flyball Dog Champion – 500 points) and her FDChS (Flyball Dog Champion Silver – 1000 points) designations. To reach the highest honor, known as the Hobbes Award, dogs must earn 100,000 points during their career. The Beach Rovers also placed as number one in their region on the Sunday of this tournament.
In the future, the Beach Rovers hope to be able to hold tournaments locally. To do that, they would need a large indoor and air-conditioned location.
Anyone interested in getting their four-legged pals involved with Flyball can contact Donna Fowler at donnainpc@yahoo.com or sign up for a class at the Greater Panama City Dog Fanciers Association by visiting www.gpcdfa.org.
"What could be better than spending time with your friends and running with your dog?" says Donna Fowler.
Leave a Reply
comments
Powered by Facebook Comments