BY OLIVIA CROSBY PHOTOGRAPHY BY MICHAEL BOOINI
Mothers who work very hard on their professional careers but also excel at raising a
family might often hear "I don't know how you do it." But there is a step above; the working
mom who works out while raising a child.
Eleven years ago, teacher Cassidy Carow learned of a family-friendly business opportunity, Baby Boot Camp. Cassidy smiles, "Although we did not have children yet, I knew that I could be a valuable part of a community of moms and help them with a balanced lifestyle." Baby Boot Camp offers family-friendly careers, she explains, and there is a sense of "MomStrong" community. Now, with three kids and one more on the way, Cassidy is happy she seized the opportunity to venture into her own business. She not only instructs at Baby Boot Camp and raises three, soon-to-be-four children, but also homeschools. It enables her to spend time with her kids even during the normal buzz of her busy day-to-day routine, she says. She certainly appreciates a set schedule. Every morning she gets up long before her children do, so she can have some quiet time to read her Bible and prepare for the day ahead. Schooling begins after breakfast and it's off to baby boot camp at 9 o'clock. This is the kid's favorite time of day because they can see their stroller friends. "I'd venture to say that most people and certainly working moms, feel like they're swinging on a pendulum when trying to find work-life balance," she reflects. "At times, I feel like I've found the sweet spot and then, the season of our life will change and the work-life balance changes. I'm very fortunate to own my own business so that I can create my own schedule and let things fall to the side that I don't deem as necessary in the moment. Having a flexible schedule has helped us and I've tried to learn from other seasoned moms and wise friends to be flexible and learn my children's needs along the way. There have been seasons when I have had more time to focus on my business and there are times when my business needs to run itself…" The drill with Cassidy Carow of Panama City's Baby Boot Camp: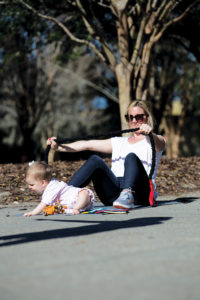 What motivates you?
My community of moms motivates me to continue to work hard for them. Seeing my children love others more and become more sensitive to God and following Him keeps me motivated.
What are your personal goals?
I am working on getting my family and business prepared to welcome another precious baby into the world. I strive to create and mold my children into kids who love God and want to obey Him.
Do new moms have to wait a certain time to exercise after the birth of a baby?
Typically, moms are released by their doctor or provider to exercise at six weeks postpartum (eight weeks after a C-section). When they have received clearance from their health care professional, we love having new postpartum moms with us. We make sure we offer them options to regain their strength at a pace that will ease them back into exercise and aid in the healing process, rather than setting them back or causing harm.
Do you offer exercise classes during a pregnancy?
Prenatal moms are more than welcome if they have received permission from their doctor or provider. At any given time, we have at least one  mom in class who is exercising safely while pregnant. I am currently in the seventh month of my fourth pregnancy and have loved being a part of Baby Boot Camp through each of my pregnancies. My changing body appreciates the exercise and movement, and the social interaction and the adult conversation we have at class is a help to my soul.
How about moms with older children or women who aren't moms?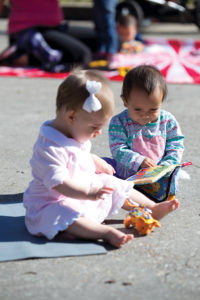 Cassidy: We often have moms join us who have at least one older child or kids who are school age. During school breaks, for example, we have an influx of older kids around. It's always fun to see these kids who used to be little ones in strollers who have "graduated" to the "big kid" status. For all children's safety and ours, kids younger than five years old remain in the strollers and the older kids remain on the sidelines of our exercise area until the end of class. Don't let the name scare you. Through the years, we have had several moms who come to participate in Baby Boot Camp classes even though their children are not stroller-age anymore.
What are the most impressive differences between Baby Boot Camp workouts and regular workouts?
Baby Boot Camp offers a unique exercise experience because we focus on women's health while incorporating a big element of play into our classes. The fun and play isn't just for the kids' benefit. We find that including lots of games and fun into our workouts increases the enjoyment, brings moms back for more. The moms work hard but don't even realize how hard they're working. The kids are not ancillary in our workouts. On the contrary, we design our classes to be fun and entertaining for our kids. From playing games, reading books, singing songs, chanting rhymes, and providing various movements of the strollers, we try to make our classes something that both moms and kids enjoy! An added bonus to our classes is that it is a built-in playgroup. At the end of every class, all the kids enjoy playtime together and make friends while moms finish exercising and enjoy socializing as well.
What do the kids do during the workout?
Kids are safely in their strollers throughout the workout but that doesn't mean that they're not a part of class! We create our workouts to entertain and enrich the kids' lives. We like to incorporate games, silly songs, and nursery rhymes, books, games, and movement of the moms and strollers to make sure that our babies and kids enjoy the classes as much as the moms do. An added bonus is the kids get to see daily exercise and wellness is a priority to their mom. Moms set a great example for their kids. It is amazing to see the things that kids learn by just observing their moms during classes. I love hearing stories about kids creating their own Baby Boot Camp classes at home, squatting and lunging, doing bicep curls, singing to their own baby dolls in their strollers while they move just like mom does. Even as kids age, I hear stories that they continue to encourage their moms to get their daily workouts. We create strong moms AND kids!
Leave a Reply
comments
Powered by Facebook Comments