Traveling and reading are amiable companions. "Being in transit" offers a prime opportunity to spend quality time with a book, and often this book will give insights about my destination. Both inspire and accommodate the other. A recent cruise through the Mediterranean provided much reading opportunity and the luxury of time to devour a number of books that have been languishing in my "to be read" queue.
The journey included visits to the small island of Malta, and then on to Tunisia and Algeria in Northern Africa. Just before departure, I had finished "Rogue Heroes" (2016) by Ben Macintyre. It is an account of Britain's Special Air Service, SAS, and their legendary exploits in the North African Theater during WWII. According to the book, Macintyre was given unprecedented access to Britain's SAS archives. Every page suggests that he has conducted vast research to masterfully resurrect the courageous men of times long past. So perhaps you can imagine my excitement of visiting the El-Djazair Hotel in Algiers. During WWII it was known as the Hotel Saint-George, where General Dwight D. Eisenhower personally maintained Allied Command Headquarters during Operation Torch in 1942-43.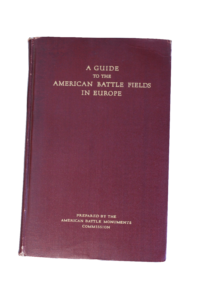 I wondered about Eisenhower's earlier years – before he went on to become our 34th president from 1953 to 1961. In keeping with a focus on history, I chanced upon "A Guide to the American Battle Fields in Europe," prepared by the American Battle Monuments Commission. With blood red binding, the small tome's purpose among other goals was to honor the American Armed Forces. The book was first published in 1927 to commemorate the tenth anniversary of the United States' entry into World War I. Assigned to assist with this project was Major Dwight D. Eisenhower. I have added a first printing copy to my library and it is in surprisingly good condition. Folded neatly into a compartment in the book's back cover, the battleground maps appear to have never even been unfolded before. The book features black and white photos from the Signal Corps of the Army and the British Imperial War Museum. Inside the cover it is noted that "additional copies may be procured from the Superintendent of Documents…at 75 cents per copy."
Does travel play a role in your quest for books? If you have travelled to foreign countries and experienced the remnants and glimpses of historical events, you know the feeling of heightened senses and mindfulness of times past and present. Drop me a note and let's talk about your favorite reading treasure.
Leave a Reply
comments
Powered by Facebook Comments