By Patti Smith, Photography By Sonja Revells
– – Michael Keith McCants Jr. or simply "Bubba,"1 was walking down the sidewalk toward his truck when he received a notification on his phone inviting him to "like" a new Facebook page named "A Kidney for Charlie Powell." The words stopped Bubba in his tracks. He had not talked with his childhood friend in years but, a moment after reading the message, he was dialing Charlie's number.
Charlie was born with only one kidney and the kidney was not healthy. The diagnosis was chronic kidney disease. He knew there was no cure, but he always thought medication would be all he would need. By age 42, however, his kidney stopped responding to the medicine. During a routine blood test, Charlie learned the organ was operating at less than 10 percent of its normal efficiency.
Chronic kidney disease (CKD) is incurable. Over Charlie's lifetime, medication had helped to slow the progression of the disease but, at some point, medication is not enough. Charlie was set to start dialysis, a blood filtering process that removes toxins. Without a kidney transplant, he would become reliant on dialysis for survival.
According to the National Kidney Registry, "there are over 150,000 people in the United States living full and active lives with transplanted kidneys." The first successful living donor transplant took place in Boston in 1954. Today, if a living donor cannot be located, the waiting time for a kidney from an organ donor is about two to five years.
Charlie was registered with the Tulane Abdominal Transplant Program through Tulane University in New Orleans and the waiting had begun. Asking for help via social media was not easy for Charlie but his pride was easier to set aside when he thought of his wife of 16 years, Amy, and their three children. When his Facebook page went live, he felt humbled by the response he received. People he knew and people he didn't know connected with him, but it was that one call from his old friend that would save his life.
Bubba immediately asked if he could be tested and, it turned out, he was a match for Charlie. Bubba explains "The blood type has to be compatible and the blood antibodies. The doctors found out that I had irregular veins coming out of my kidney and they had to make sure they could rebuild that in Charlie. I had a renal arteriogram, also a MRI, met with nurses, the surgeon, a psychiatrist and a social worker. At Tulane Med they do not just give your kidney away. It is a process similar to getting a bank loan, you have to prove you do not need it to give it away. In layman's terms we were an "extreme match" according to the staff. To not be related and be that well matched was indeed a miracle."
When the surgery was scheduled, two teams of doctors and medical professionals were present. One team was dedicated to Charlie and preparing his body for the new kidney and the other team was dedicated to removing Bubba's kidney.
"It's amazing that he did not have any reservations whatsoever throughout the whole process," Charlie says of Bubba's willingness to see it through. "I don't know that I would do it if I were in his position." Bubba's decision was based solely on his faith in God. He and Charlie had met at church and grew up learning Christian values. "That doesn't always mean you lead the best life," Bubba says. "I've sinned quite a bit, but I know I made it through some of those times for a reason." Bubba adds that praying gave him peace and confirmation that he was doing the right thing by trying to help his friend.
When people ask Bubba why he donated his kidney to someone who wasn't a family member, his answer is always, "Why not?" "The way I look at it, it wasn't my kidney anyway," he says with conviction. "It all belongs to God. I just got to keep it warm for 39 years and there was a need." Bubba was further motivated by the fact that Charlie was a husband and had three children. Bubba was single at the time and had no children. "It would be selfish of me not to at least try."
Bubba and Charlie went through series of tests including CAT scan, MRI, and blood tests. In the final test, samples of Bubba's and Charlie's blood were combined to make sure they would not separate. Charlie says Bubba was not only a match, he was a better match than any of Charlie's relatives.
It was a done deal for Bubba. He remembers, "It was a celebration, I said, 'Let's do it as soon as possible. He needs one. Why wait?" Charlie recalls not knowing what to say. He was overwhelmed with gratitude, excitement, and hopefulness for a better life.
On March 18, 2015, less than six months from the time of the original social media post, Charlie and Bubba were in separate operating rooms at Tulane. Soon after the surgery, they were hobbling around the hospital hallways together. "When you do something like this, people tell you over and over and over how great you are, but I personally felt that Charlie was the hero. A lot of men are pretty stubborn. It took a lot for him to reach out and ask for help in such a big way," Bubba relates.
Charlie no longer minds asking for help and he shares his story whenever he can to help raise awareness of the need for living donors. "Sharing the story is uplifting for me," Charlie says. "It reminds me there are still good people out there. He gave me the gift of life and quality of life."
Both men say this process has helped them grow in many areas of their lives, but especially spiritually. Their prayers are filled with gratitude and things like closing business deals and football games have been put in perspective. Their focus is on others and doing even greater things to help people. "I hate to think that at 39 this was my biggest accomplishment. I'd like to think there is something bigger coming," Bubba says.
Both men had their 12-month checkups recently and learned that both kidneys are healthy and functioning normally. Now 41, Bubba is married to Mary McCants and they are planning to start a family. Charlie is devoting himself to wife, Amy, twins, Clark and Emma, 7, and youngest son, Charlie, Jr., 3.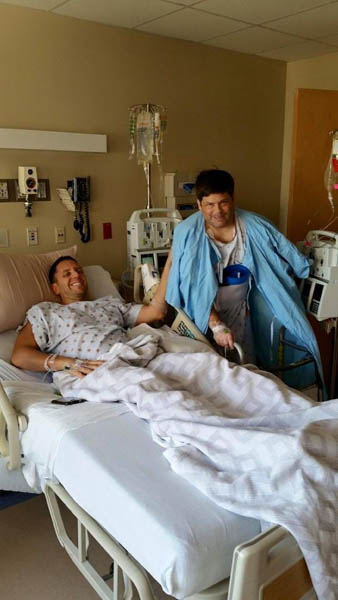 1 Bubba McCants explains, "my sister named me "Bubba" when I was new to the world, she was not able to pronounce the word "brother" at the time. She is fourteen months older than I am."
The Facts About Kidney Transplants
For The Recipient
Dialysis vs. Transplant
People facing kidney failure who are medically qualified for transplant surgery have two basic options: stay on dialysis or get a transplant. Transplantation is far superior to long-term dialysis on all fronts. Transplant patients generally live twice as long as those who stay on dialysis and transplant patients are not restricted by the challenging routine of dialysis therapy. These factors and the quality of life improvements lead many people to seek transplants.
Deceased Donor vs. Living Donor Transplants
In pursuing a transplant, there are two options: a deceased donor transplant or a living donor transplant. Kidneys transplanted from living donors are superior because they last nearly twice as long as kidneys transplanted from deceased donors.
Time Matters
Once a person has made the decision to get a transplant, time matters. Studies indicate that the less time the patient is on dialysis, the better the transplant outcome. Receiving a preemptive transplant and never going on dialysis leads to higher transplant success rates.
The Match Matters
Not only does time matter but the donor – recipient match matters too. The most significant matching variable that can be improved via paired exchange is the HLA match. The donor age is less significant but can also be improved via paired exchange. Below are charts that show the impact of the HLA match and donor age on transplant outcomes.
For The Donor
Life Expectancy
Donating a kidney is major surgery but has not been shown to reduce the donor's life expectancy. Interestingly, people who have donated a kidney outlive the average person. (Reference: Fehrman-Ekholm, Ingela 2,3; Transplantation, 64(7): 976-978, October 15, 1997.) This fact has fueled an ongoing debate over why kidney donors live longer than expected. Some experts believe that it is simply a selection bias since only healthy people can be selected to be living donors. Others argue that the altruistic act of giving the gift of life and the happiness and satisfaction that follows has a positive impact and leads to a healthier and longer life.
Complications
Donors face the possibility of post-operative complications such as bleeding, wound infection, fever, etc. Most of the post-operative complications are generally short-term and can be addressed with quality medical care.
Recovery Time
The two types of kidney removal procedures, laparoscopic and non-laparoscopic, have very different recovery times. Laparoscopic kidney removal is less invasive and allows the donor to be discharged 1-2 days after surgery, allowing the donor to return to work in one to four weeks depending on the donor's occupation. Non-laparoscopic surgery has a longer recovery time. NKR member centers generally utilize the laparoscopic procedure.
Source: http://kidneyregistry.org/
Leave a Reply
comments
Powered by Facebook Comments