By Laura Roesch, Photography by Lean Timms, Courtesy of Saints of Old Florida
At first glance you might think it is a compelling coastal lifestyle book that speaks to all senses. The distinct vintage look of the cover with its textured fabric, the weighty 252 pages, and the careful selection and balance of breathtaking photography and beautiful content, all play together to capture and relate in exquisite form and nuance a feeling of Old Florida.
Historic structures, oysters on the half shell, bonfires on the beach, the lore of local fishermen, lazy afternoons whiling away the time on a screened porch – these are just a few of the things that make up the infinite beauty of the coastline of this part of Northwest Florida where time seems to stand still.
"Who are The Saints," you may ask? You should ask "what?" instead. They are St. Joseph, St. Vincent Island, St. George Island, St. Teresa, Port St. Joe, St. Marks along the seemingly endless two-lane stretch of coastal Highway 98 that leads to Panacea, Carrabelle, Apalachicola, Indian Pass, and Cape San Blas.
The three authors, Melissa Farrell, Christina McDermott, and Emily Raffield, spent more than two years seeking out precious stories about their beloved Saints and collecting personal remembrances and traditions from local sources, family, and friends. The women share distinctive perspectives from their individual life experiences, every page showcasing their Southern charm, style, and grace.
Emily, 28, a fifth-generation Florida native, born and raised on St. Joseph's Bay just outside Port St. Joe, returned home after a corporate marketing career in Atlanta. In 2000, Melissa, 48, a native of Thomasville, Georgia, opened a coastal lifestyle store, Joseph's Cottage, in Port St. Joe. Christina, 66, an artist from Atlanta, retired to Port St. Joe permanently in 2008.
I spent a lovely morning drinking coffee with the authors on the porch of Emily's picturesque family home situated on the shores of St. Joseph Bay. We talked extensively about their journey, what they hoped to accomplish, and the surprising success of their book that has already sold more than 6,000 copies locally. Just a few steps away from the gentle waves, with boisterous seagulls hovering in the breeze above, there could not have been a better setting to find out how Saints came to be.
PC Living: I cannot decide whether Saints is a love letter for the people who live in this part of Florida or if it is a series of love stories to those who will visit or hope to visit. What does Saints mean to you all?
Melissa: It was a way for us to show our appreciation for what is here and to celebrate a way of life that is still undiscovered in so many ways.
Emily: It was also an opportunity for us to show this beautiful area in a positive light. We love it here and knew getting our personal respect and affection for our home onto paper was important.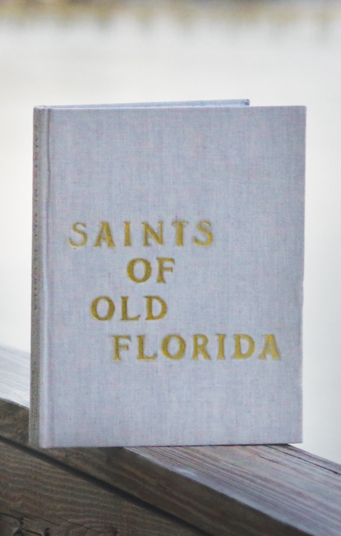 PC Living: Whose idea was it to write this book?
Emily: Christina's. She then mentioned it to Melissa. I had returned to Port St. Joe, after spending four years working in a corporate job in Atlanta. I was working for Melissa at her store, Joseph's Cottage. One day she mentioned that she and Christina had been talking about this project and they wondered if I would be interested, too. As I look back on it now, even just the thought of moving home, amazes me. What were the odds of finding something that became a true passion? I think it was just meant to be. There was a synchronicity throughout the whole experience.
Christina: I had always wanted to live at the beach and, over the years, often visited Seaside with my daughters. From there I began doing more and more day trips, exploring this area. I kept venturing eastward, driving through miles and miles of tall pine trees. I would stop to take photos because, as an artist, I was building up an inventory of images I wanted to paint. Once in Carrabelle, I took a photograph of the park there. I happened to show it, along with some other photos, to Melissa. She said, "Oh, yeah! My family has been going there for years." And I would talk to people on my travels. They were so friendly and I would ask them, "Why are you here?" And they shared their stories with such love and appreciation. I remember talking with Ms. Dorothy at Outzs' Too, an oyster bar in Newport near Wakulla Springs, and eating smoked mullet dip. It occurred to the three of us that people love this area in a way that we wanted others to understand and appreciate. This book is our way of sharing their stories and our own.
PC Living: Not only is the book's content fascinating, the book is visually appealing. You all came to this project with three distinctly different perspectives. How did that work out as the project moved forward?
Emily: We are three passionate and creative women of different ages. There were days we worked together as a team and some days we worked alone. And our age differences were essential to the book; we put our heads together from three very different places and created something that spans generations.
Melissa: We had a vision from the beginning. It was a huge and thoughtful process to really convey, to really bring out the essence of this entire area. Being able to bring in Emily, who grew up here in a family in the fishing industry going back generations, brought an invaluable perspective. I was born in the 60s, and grew up going to the coast at St. Marks and Panacea where my grandfather had a fish camp. In the 70s and 80s we would go to Panama City Beach, but it was this area that kept drawing me back.
PC Living: Speaking of vision, the images in the book, old photographs, and letters and family recipes, have a distinctly vintage look to them. How did that come about?
Emily: We wanted the photographs to elevate the book, to stand the test of time, so we knew photography was important. And we had been looking for just the right photographer. My sister happened to be visiting from Jacksonville along with her friend, Lean Timms. Lean is a travel and lifestyle photographer originally from Australia. We took her boating on St. Joseph Bay. One thing led to another and we asked her if she would be interested in taking on a big project and just see what would happen. She was immediately enthusiastic about what we were trying to accomplish. Over the course of a year, we spent about seven weeks working together. The three of us had the creative eye; Melissa especially had a heart for a nostalgic, vintage look and Lean helped us capture just what we needed to share – Old Florida's true story.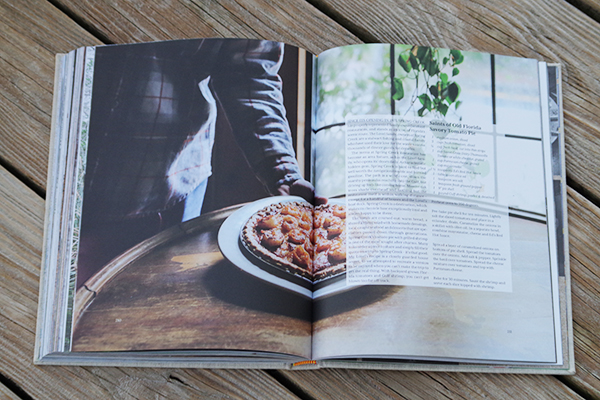 PC Living: I was surprised to see recipes included. That seemed unusual but, as I read the book, recipes added an interesting layer within the personal stories. What was the thought process behind that idea?
Christina: We felt food was another way to preserve the traditions and enhance the stories. When I first moved here, I went to a restaurant with a friend who always orders smoked mullet. What is that? Well, it is fabulous. We then pondered how to bring food into the project, and it developed into an important part of the story lines. For each Saint town we were sure to include the foods central to that place, or recipes that had meaningful stories.
Emily: Food is a big part of what makes a place special. And so many of the recipes we included had never been written down, like my grandfather's, Captain Carl's, baked red snapper recipe.
PC Living: The book includes a diverse group of contributing writers. Were you surprised at their willingness to be involved?
Emily: Yes! We asked people to write about their experiences, and they would send us whatever they wanted. We never instructed them to "write this, or write that." That so many people were willing to share their heartfelt experiences in these places we love is just another example of synchronicity. A lot of what is typically shown about this area barely breaks the surface; there is so much more. We wanted to show it.
PC Living: This project took more than two years to complete. Was there ever a time when you reached a point and said, "This is too daunting; what have we gotten ourselves into?"
Christina: No, we just kept going. And it finally began to take shape. We found editorial designer, Richie Swann, in Charleston, South Carolina. We literally drew pages and storyboarded every page, to demonstrate to him what we were trying to convey. Then he "got it" and off we went.
PC Living: The book is self-published. How did that come about and had any of you had any experience in this area?
Christina: None of us had ever done anything like this. We knew a publisher would probably not let us do this the way we wanted to do it.
Emily: No experience at all; we learned during the process. We really wanted to make it happen. It was all about what we loved, this area. We wanted to get it on paper, to share it. So, we decided to just do it ourselves, no matter how difficult.
PC Living: Saints was released in June, and now it is in its second printing. Are you surprised at its success?
Emily: Yes! And that is so amazing to us. Lots and lots of support from so many people; people who vacation here, our locals, family, and friends. And the interest in the book is spreading so quickly and so widely. Our ultimate goal was to make this book a classic. We wanted to have it be about a lifestyle, a way to invite people into our homes and into Old Florida, and to show this area as perhaps few have really seen. We are so proud of it!
There will be a special treat for Saints of Old Florida enthusiasts on January 19, 2017 from 6-8 p.m.
The authors will have a Book Talk and Signing at the Bay County Public Library Meeting Room.
The event is free and open to the public and is sponsored by the Bay County Public Library Foundation.
Location:
Bay County Public Library Meeting Room,
898 West 11th Street, Panama City, FL
More information available at:
Northwest Regional Library System