By Marsha Allen, Photography by Marsha Allen
Robert Matera's 1969 Camaro Z28 is his family's pride and joy. Purchased new in South Carolina by Robert's mother, Lillie, when he was just four years old, the car has remained in the family but underwent a transformation throughout the years.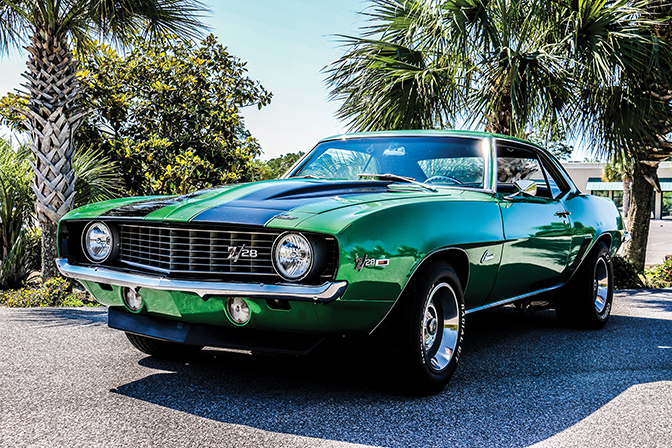 "She bought the car simply because she liked the original factory paint color of Glacier Blue Poly," Robert says. They had no idea that this model would become one of the most iconic muscle cars ever built.
Robert has fond memories of riding in the back seat as he grew up. He remembers learning to drive and mastering the stick shift.
After a minor accident in the early 1980s in which no one was hurt, with a damaged rear end, the Z28 was parked in the family's backyard for about 10 years until Robert rescued it and began the restoration process. Robert's motivation is easily explained, "I spent my childhood in that car. I loved it and wanted to bring it back to its full glory. Now it is a tribute to my late mother." After repairing the damage to the body and adding a fresh new coat of paint in Rally Green with bright white stripes, he began to really enjoy what he now calls his "little girl." For several years, Robert pushed the car to its limits on local drag strips until he made some performance upgrades in 2001, including a new second-generation ZZ4 motor. After installation, a dynamometer reading confirmed 449 hp at the rear wheels. Subsequent upgrades to the car included a new transmission, along with a digital dash. In 2010, the car was repainted, again in Rally Green, but this time Robert chose black stripes. He now enjoys driving and showing off his beauty at local car shows and cruise-in events. Robert has been a member of several car clubs over the years and is currently a member of the American Muscle Car Club in Panama City.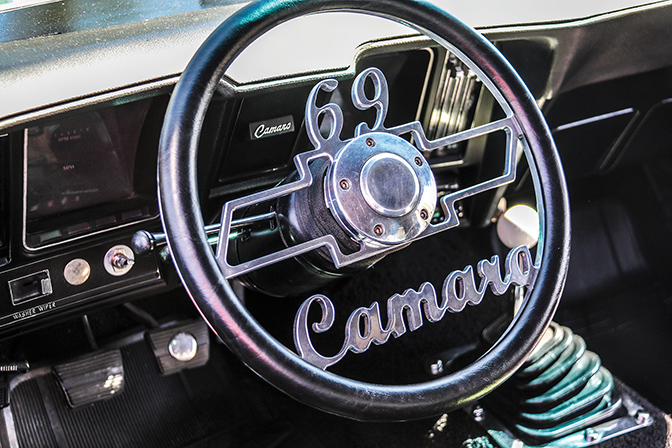 In 1969, 243,085 Camaros were produced, 20,203 of which had the Z28 option package that was designed for the road racing fan. The Z28 package added $458 to the Camaro base sticker price of $2,726 and it included a 302-cubic inch engine with solid lifters, dual exhaust, special suspension, heavy duty radiator, quick ratio steering, 4-speed transmission, 15" × 7" rally wheels, and racing stripes on the hood and trunk. Known for its unique design and style, the 1969 Camaro was the last of the "First Generation Camaros" with flattened wheel wells and a redesigned grill. Among muscle car enthusiasts, the 1969 Camaro Z28 is touted as the most desirable of all Camaros.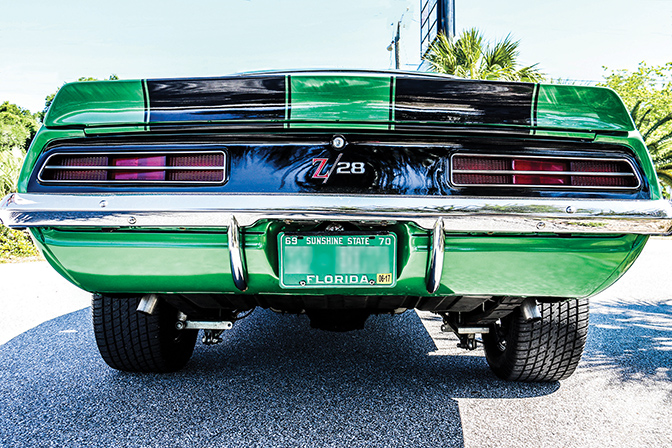 Robert truly enjoys his Camaro. "Every day that I drive this car it's a new memory," he says. "I get a lot of looks when I'm out driving it and I hear many comments about it. People tell me it's their dream car."
But it's almost painful for him when something on the car breaks and must be repaired simply because he hates to see his "little girl" in pieces. Repairs can sometimes take a long time, he says, because "you can't always go to a local parts store and get everything you need if you want to keep it original."
Born in South Carolina to a military family, Robert moved to Panama City about 14 years ago. He has three children—son Corey, currently stationed in Tampa with the USAF, and daughters Melissa and Sara, who both live in Panama City and two grandchildren, Connor and Lakyn, also residing in Panama City.
Leave a Reply
comments
Powered by Facebook Comments