By Laura Roesch, Photography by Savannah Dean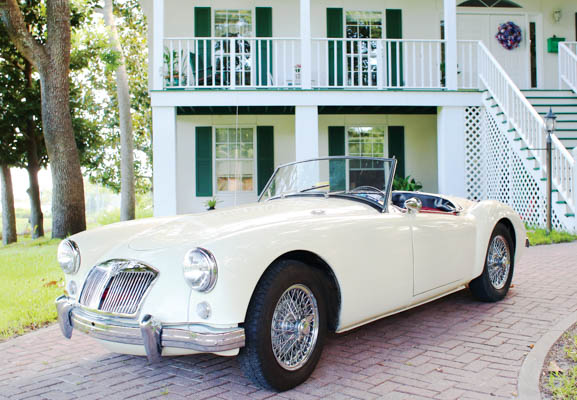 Guy and Virginia York have traveled the world together, much of it in their British sports car, a 1957 MGA. Guy has owned the two seater since late 1958 – two years before marrying Virginia, he remarks. Guy studied at Georgia Tech and this is where he met Virginia – her brother and Guy were Sigma Nu fraternity brothers. His roommate at the time owned an MGA, painted Island Green and Guy says driving it was "the most fun." He vowed he would own one as soon as he could. That would not be long.
After graduation from Georgia Tech and completion of the civil engineering training program at Wright Patterson Air Force Base in Ohio, Guy was assigned to Hahn Air Force Base in Germany as a Second Lieutenant. At that time, Virginia, a Wesleyan College student, was completing her junior year at the University of Edinburgh, Scotland, having traveled from the United States on the RMS Empress of Britain.
When Guy arrived in Germany, one of his first plans included ordering a new MGA but, back then, it was not possible to simply go into a showroom, pick out a car, and drive it away, especially not a British car. An order had to be placed at a dealership and then it would take months for the car to arrive by cargo ship at the nearest port. As luck would have it, a pilot arrived on base from France. He had received orders elsewhere, so Guy was able to buy the pilot's MGA. The paint color was Old English White and it had just 7500 kilometers (or 4660 miles) on the odometer. He paid $1,300, a handsome sum at the time, especially when one considers Guy's salary was just $220.30 a month.
The next spring, Guy knew Virginia would be in Paris on spring break. They agreed to meet at the base of the Eiffel Tower at 10 a.m. on April 18, 1959. In the meantime, Guy found the perfect diamond at a diamond market in Idar Oberstein, Germany and designed an engagement ring for her. He remembers that he could not leave Hahn Air Force Base until his workday ended and he drove the MGA most of the night to be in Paris on time for their rendezvous on the morning of April 18. With the ring in his pocket, he arrived in time and proposed to Virginia at the top of the Eiffel Tower. She was taken completely by surprise. The same day they telegraphed her family, "On top of the Eiffel Tower; engaged." They were married in St. Giles Cathedral in Edinburgh on June 23, 1960 and honeymooned by taking a driving trip to Troon and the Isle of Aaron in Scotland, England's Lake District, Wales, and back to Germany.
For years, the MGA was their only vehicle and they drove it year-round, regardless of the weather. They explored England, Wales, Scotland, France, Austria, Italy, Germany, Switzerland, the Netherlands, Norway, Denmark, Sweden, Lichtenstein, Andorra, Belgium, Spain, and San Marino. During a trip to Carrara, in the northernmost tip of modern-day Tuscany, they fell in love with a particular piece of marble. Knowing space was limited in the MGA, they had the piece cut so that it would rest neatly behind the seats in their small car as they made their way back to Germany. That marble became a coffee table and is still a treasured reminder of their travels in the MGA.
MG, named for the manufacturing company, Morris Garages in the 1920s, manfactured the MGAs from 1955 to 1962.
The York's particular model is an unusual European Continental export model, originally made for the French market, with yellow driving lights as required by that country's specifications. At the time, MG produced two other models, one for the British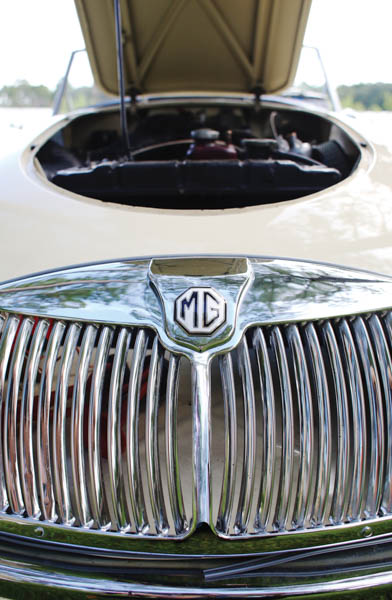 home market (for driving on the left side of the road), and one for export to the United States. The fittings on the car are a mix of British standard, SAE and metric. The speedometer shows kilometers-per-hour and other dashboard instruments are also metric. While in Germany, Guy and his rally partner, Paul Gaines, competed in many races and road rallies in the car. In the 1960s, night rallies were popular in Europe, often lasting more than eight hours. They often won or placed second and also competed in track road races organized by class of car. Guy candidly points out that his MGA, with its 1500cc engine, would have been no match had they competed with a Triumph TR-3, which had a 2000cc engine.
Guy's next assignment required the Yorks to return to the United States. Assignments included Georgia, Alabama, Ohio, New Mexico, Texas, Tennessee, and Florida. There were other European assignments including Ramstein Air Base in Germany, Korea, and Vietnam. Most of the time, the MGA was with them. Their children came along in 1964 and 1970 and the family of four often piled into the MGA for a drive as the car continued to be a cherished part of the family.
Their beloved two-seater is now 59 years old and Guy estimates it has been driven almost 300,000 kilometers (or approximately 190,000 miles). As expected, the engine has been rebuilt several times but it still has the original engine block. It has been restored as close as possible to the original 1957 delivery condition with paint in original colors, including the engine. The exterior paint is exactly the original color known as Old English White as ordered from England via Moss Motors in California. Guy notes that today's paint quality is far better than the original English paint of 1957. The speedometer currently shows 6,904 kilometers (or 4,280 miles) since its last restoration.
Guy retired as a Colonel after serving 29 years and the Yorks made Panama City their permanent home in 1987. They continue to travel the world extensively but only take short drives in the MGA, perhaps to Pensacola, Apalachicola, or Fairhope, Alabama. As longtime members of the Bay British Car Club, a local group of British car enthusiasts, the York's MGA attracts much attention. It is considered a "show" car in its beautiful state of restoration and Guy proudly shares its history.
It is surprising that the car has not been sold all these years, and Guy is quick to point out "We got married in it!" His eyes sparkle when he says, "I've had that car longer than I've had Virginia." She delights in pointing out, "But I've never had a new engine or body job."
Leave a Reply
comments
Powered by Facebook Comments