By Val Schoger, Photography by Nick Trail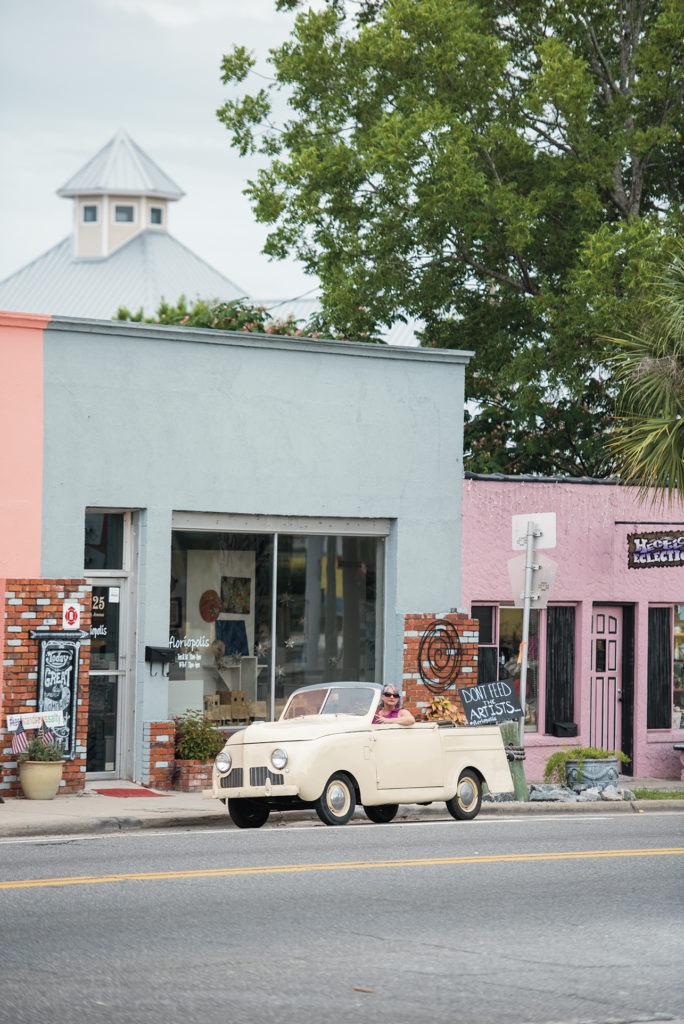 Walk or drive down Beck Avenue in Historic St. Andrews on a sunny day and most likely you will see a small quirky car parked in front of Floriopolis, a nonprofit "community arts & culture metropolis." The vintage car is a 1948 Crosley owned by Heather Parker, resident artist and founder of Floriopolis. With a clear mission, Heather started looking for a vintage car last year. "I wanted a car that would be easy to get around in and would draw attention to St. Andrews, Floriopolis, and art. I wanted an unusual artistic car, in keeping with the 'Keep St. Andrews Salty' spirit."
Heather is highly involved with organizing community events, she teaches art, and, now and then, she finds the time to create beautiful artwork. While she clearly reached her goal of drawing attention with her Crosley, she was not quite prepared for the overwhelming excitement it would generate. "People react to the car," she smiles. "When parked in front of Floriopolis, I often have to check on the car because people will try to look under the hood, turn the ignition, or put their children in the seat and take pictures. When I am driving it, other drivers often holler questions across the street and I have to holler a response. Some people have even followed me home to ask questions about it and tell me about the Crosley they or their parents once owned."
Whenever the Crosley is parked at Floriopolis, she puts up a sign with answers to the most common questions. In essence, it reads: "No, it's not for sale; Yes, you can take photos; No, you can't get in it; Yes, we bought it locally… Follow the hashtag #crosley if you want to know more about it."
The Crosley is a conversation starter and Heather and her husband John read up and learned more about the car and its history, simply to be able to answer all the questions.
The mastermind behind the Crosley design was successful inventor and industrialist Powel Crosley, Jr. who, as a young boy, had a fascination with cars.  In the 1920s, he became a highlysuccessful manufacturer of radios, telephones, refrigerators, and record players, among other items. Powel ventured into manufacturing cars with his younger brother Lewis and presented the first Crosley model in 1939. At the time, Crosley-branded products were sold in hardware and department stores and so was the car. According to some sources, the car was deliberately built with a 48-inch width so that it could fit through the doors and freight elevators of department stores, namely Macy's, where they were on display next to the refrigerators.
While they know little about their Crosley's history, Heather and John learned that it spent several years in Rosemary Beach where it was used as "a sunny-day car." It was put up for sale and caught the attention of Bill Rhodes of Rhodes Motorsports in Lynn Haven who transported it to his shop, checked it out, and decided to put it up for sale again. John and Heather were thrilled when they found the car locally and could test drive it. They bought it the same day.
Their Crosley started out as a station wagon but was modified into a convertible by one of the previous owners. John lists the car's technical details: "The original engine was made of copper-brazed sheet metal. It eventually succumbed to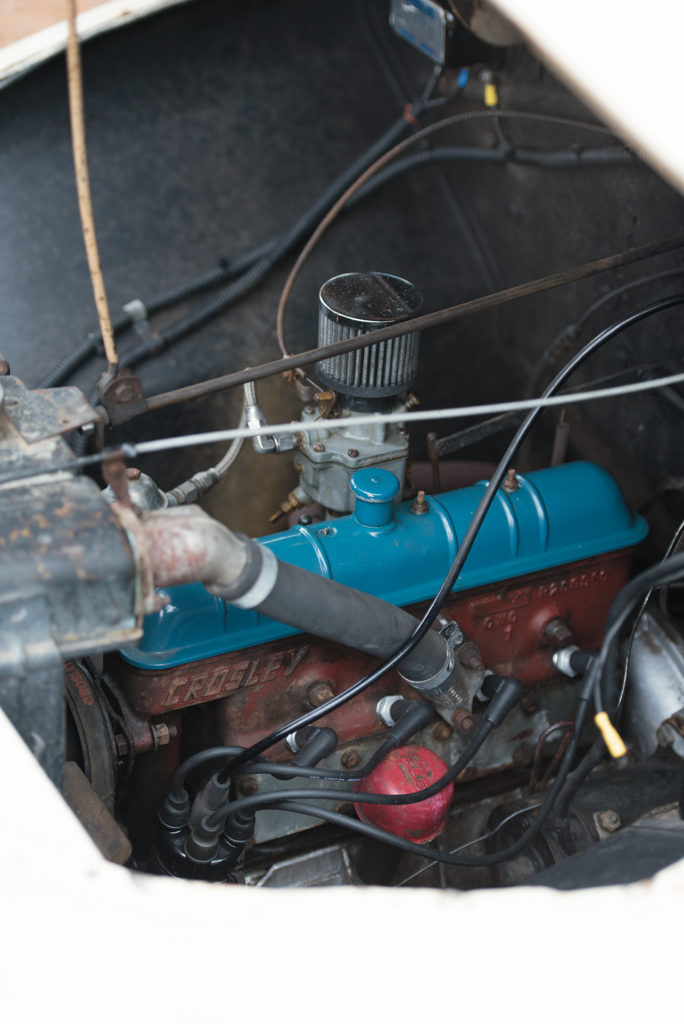 corrosion. One of the previous owners replaced it with a 1952 26 HP Crosley Inline-4 cast iron engine. It translates to 10 HP at the wheels and the car operates on a 6 V battery system." He explains that the Crosley weighs less than 1100 lbs, has a double shift transmission, sports manual windshield wipers, 12-inch tires, and three speeds. It doesn't have seatbelts, side view mirrors, or turn signals, which were optional in this model. However, the fact that it gets 50 miles per gallon makes it very economical to drive.
John notes that he only gets behind the Crosley wheel when Heather "hears a noise." Heather, on the other hand, makes "driving the Crosley" subject to weather conditions.
While it looks like a lot of fun, Heather is still practicing and fine tuning her driving skills. "It has an old-fashioned stick shift and no power steering," she reports. "I have driven stick shifts before but not this kind. It has a double clutch. This means you need to push the clutch and take it out of one gear and then let go and then push the clutch again to put it into the next gear. I also had to re-train myself because the reverse is where the first gear would be in other cars. But the more I own it, the braver I get to go out into traffic."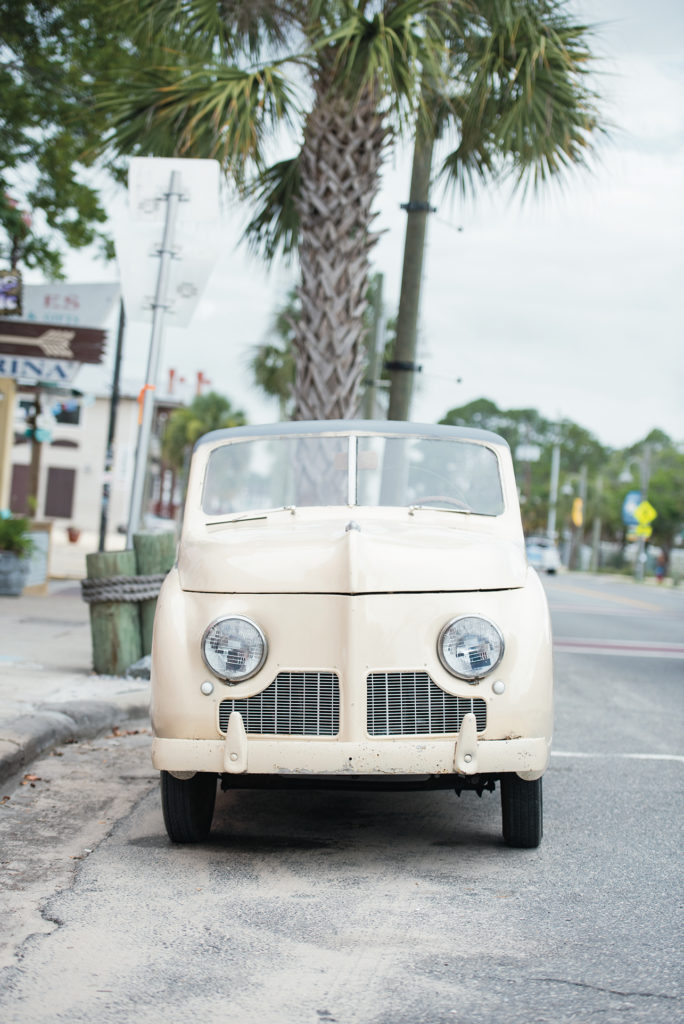 She reports that the Crosley brand has made a comeback. Crosley appliances are manufactured and distributed but especially the production of vintage looking record players, turn tables, radios, telephones, and juke boxes has resulted in a new fan-base. "You will see people walk around with Crosley pins or T-shirts and ballcaps that have the Crosley logo. We may see more of the cars around," she speculates.
"I found that Crosley car owners absolutely love their cars," Heather says. "There is a Crosley owners club that is very active and an annual Crosley car show." She is well aware that her plan to transform it into an art car might not meet everyone's approval. "The Crosley is a 'blank canvas'," she declares. "I don't have a clear vision and timeline for it yet, but it will be a rolling art project. But I have to resist going for the 'fun part' first. It needs some bodywork and I want to make sure that it's sound. It will be a work in progress to promote St. Andrews, Floriopolis, and art."
Find out more about Heather Parker on facebook by searching for: Heather Parker, Contemporary Artists. Also look up: Floriopolis. Alternatively,  look for a parked Crosley outside the arts center located at 1125 Beck Ave in Historic St. Andrews.
Leave a Reply
comments
Powered by Facebook Comments