By Laura Roesch, Photography by Savannah Jane

Terry and Sandy Kent are the proud owners of two of American history's most iconic automobiles, a Ford Motor Company Model T and a leather-back Model A.
Terry grew up in Detroit, arguably the automotive capital of the world in its day. As a young man, he had a fascination for the brilliance of Henry Ford, the founder of Ford Motor Company and chose a career path in the automotive industry as a brake engineer for an automobile industry supplier.
Terry's loyalty to the Ford brand started in high school with his first car, a 1955 Ford Thunderbird. After college he owned a 1957 Thunderbird.
Over the years, Terry and Sandy developed a passion for and pursued two hobbies; genealogy research and vintage cars. Terry was intrigued when his research revealed that many of his family members migrated north from their Kentucky farms to work in Detroit's auto industry. The Kent family tree has grown immensely over the years of Terry's genealogy research and he found many old photographs that showed family members posing with Ford Model Ts and Model As.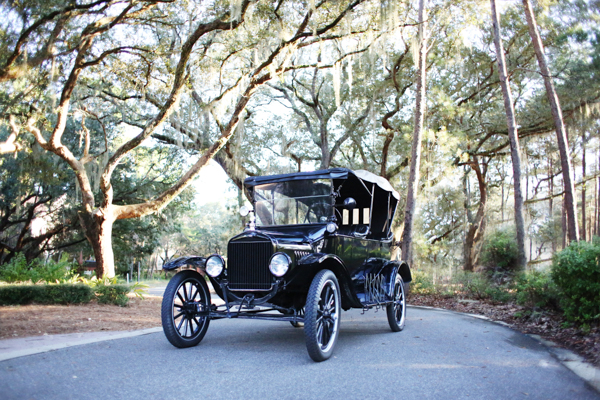 Six or seven years ago, after years of searching, Terry found the 1929 Model A in a small town north of Mobile, Alabama and three years later, he found the 1920 Model T nearby in Fort Walton Beach. Both cars had been restored and were in good running condition when he bought them. He says they have required little attention but have received much admiration and awe.
Terry points out that driving either car on public streets can be a bit nerve wrecking. "People don't realize they are driving behind an antique car that is slow to accelerate and requires time to get up to speed. They are slow-moving vehicles," Terry says with a chuckle. He finds the Model A much easier to drive than the T because of its conventional transmission, somewhat similar to today's standard transmissions.
Terry remarks that the appeal of the Model T was its simplicity and affordability. Ford's innovations revolutionized the automobile industry when he perfected the assembly line method of manufacturing, including the use of interchangeable parts. This assembly process resulted in faster production of the Model T and a cost savings that Ford passed on to buyers. This method was so cost effective, the car's cost to the public dropped from an initial $825 in 1908 to less than $300 by 1924. More than 14.5 million Model Ts were manufactured from 1908 to 1927, a record that remained unsurpassed until after World War II. "Mass production was born and Ford Motor Company built the Model T in the United States and many other countries, including Canada, France, Germany, and Britain, an amazing accomplishment even by today's standards," says Terry.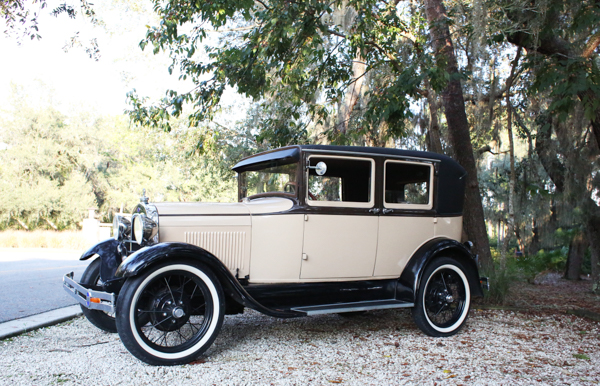 The Model T was rugged and also easy to repair, much like a tractor. Ford, born in Michigan, grew up on his family's farm and loved tinkering with farm machinery. That tinkering continued in various forms over the years until Ford established a successful automotive company. "When the Model T and A were designed and built, Ford did not have the luxury or benefit of computers like we do today," Terry remarks. Ford was a "trial and error" kind of inventor, preferring to test and evaluate his prototypes in the field rather than relying on what could be seen in a draftsman's drawing.
The Model T is also known as the "Tin Lizzie," for reasons that have been lost over time but might be attributed to being so sturdy that it had a reputation that, although it might break down, it would never break. Until 1919, the Model T could only be started by a hand crank, an often dangerous experience.
Terry found driving the Model T daunting at first. "Learning to drive it was a bit of a challenge. There was a learning curve, as the driving controls are quirky and unlike any I had ever encountered. It has two forward speeds; three foot-activated floor pedals, one for reverse, one for the brake, and the third for the clutch. The hand-operated accelerator is just a stalk mounted on the steering column. But, thanks to YouTube videos, I quickly mastered it." He laughingly admits, "I baby the car and don't drive it very far, mostly to church, which is about six miles round trip; it has a four-cylinder 20 horsepower engine with a two-speed planetary gear transmission. Its top speed is just 35 to 40 miles per hour."
Another Ford innovation rocked the automotive industry when he shortened the workday to eight hours, paid his employees $5 a day, and offered profit sharing. "Ford paid more than double what factory workers were typically paid, a brilliant move because it helped Ford maintain a steady and reliable workforce. It wasn't long before other manufacturers were forced to do the same," Terry explains.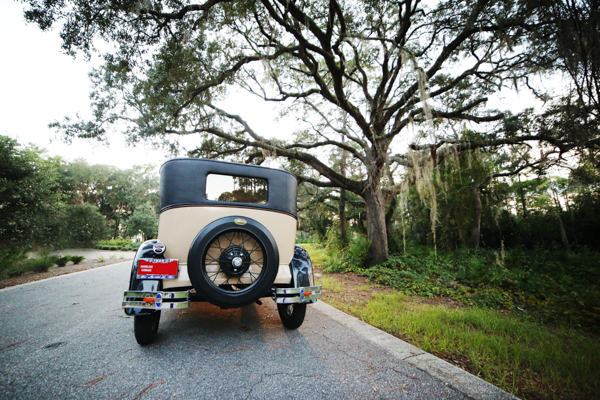 Eventually, the Model T became obsolete as the public wanted a more modern car, and Ford Motor Company began to lose market share, after enjoying as much as 60 percent of the U. S. market; yet Ford balked at making any changes. His son, Edsel, finally convinced him that a new model was vital if the company was to survive. A new car was designed and, to symbolize a new start, it was named the Model A, rather than U or V, and was produced from 1928-1931. Kent says, "The Model A was considered a major improvement compared to the Model T. Unlike the Model T, the Model A included a speedometer, a standard transmission, and more speed. The rear view mirror was optional." The price ranged from $375 to $1,400, depending on the model. The Model A came in a variety of colors, unlike the Model T, which Ford bragged was available in any color, so long as that color was black. The Model A also had a four-cylinder engine and, with 40 horsepower, it had twice the horsepower of the Model T. The Model A had a sliding gear three-speed transmission with reverse, and a top speed of almost 60 mph. Like the Model T, its suspension was by transverse leaf, but the Model A also had hydraulic shock absorbers, which greatly improved the driving experience. The Model A was also the first automobile to have its windshield made from safety glass. Its braking system was considered far superior to the Model T. The Model A had four-wheel mechanical brakes compared to the Model T's rudimentary braking which applied only to the rear wheels. Within the first six months of production, more than 800,000 orders were placed for the Model A. By the end of its four-year run, more than five million Model As had been built. The Model A is still considered one of the most popular collector cars in the world.
So remember – should you see a Model T or a Model A rolling down the street, it's a slow moving and historical vehicle!
Leave a Reply
comments
Powered by Facebook Comments